Bio has all the needed information; however, it is not updated with news about winter break. "Portland Oyster Shop" or "Oyster Shop + Raw Bar" or "Oyster Shop, Raw Bar, Market" in a search line would be very explanatory and rank high due to Instagram algorithms. Words "The Shop – Raw Bar + Market" could be moved to the first phrase of the Bio, instead of the search one.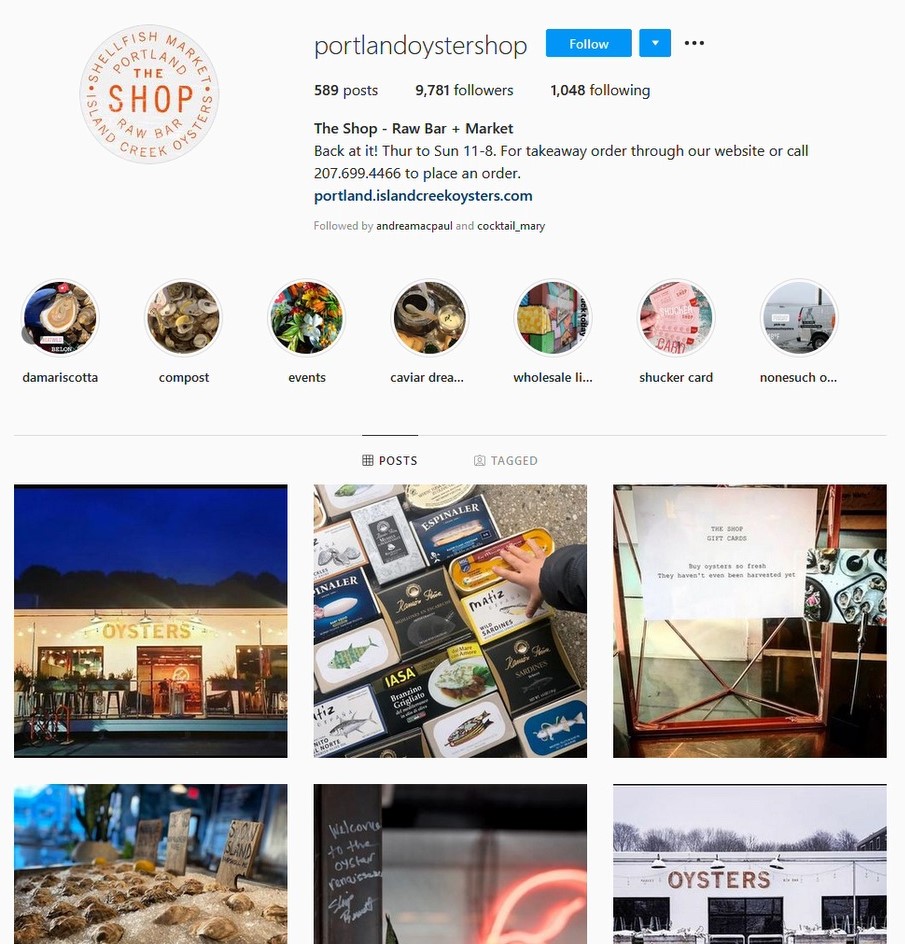 When business adds information that potentially could be searched on Instagram into the search line (also called Name), it will be shown among the first oyster and raw bar establishments.
There are currently eight great highlights on the profile. They will benefit from updating each highlight from scratch exempt the Compost one. If your Story about frequent chucker cards is not relevant anymore, it should be misplaced.
Below is the list of possible extra highlights:
Best sellers – name customers' favorite food items from your Shop! Give your point of view on their popularity.
BTS (behind the scenes) / Process/ How we shuck it – add videos of processes, time lapses of you and your employees getting ready for the day, making soups, sauces, engaging with your audience through Stories, video posts, IGTV.
Our variety / The Shop facts – talk about characteristics of oysters that you have in place, history of your suppliers, stories from the farmers, name your personal favorite ones; explain the difference between different brands of sardines, clams.
Pairings – what wine or cocktails would you recommend to pair with tinned fish, oysters, clams, etc.
Press / mentioned / featured / reviews – showcase reviews from your customers, captured in Stories, make print screens of nice words from Yelp, Facebook, Google reviews. Let people know that you care about their opinion and that their reviews make your business grow and survive.
Staff fun / facts / Our team – introduce your team, talk about things your employees have in common or what differentiates them.
Tag us / Fan grams / Friends / Fans- pictures and videos made by your customers in which they tagged you and raved about your food and beverages.
I noticed that you are adding just a few hashtags in the caption of the post itself. Hashtags will look better if added to comment section, not to the main post – less distraction for your reader. Also they could be more location- specific and product-specific.
For any post (excluding REELs) I would not recommend using very popular hashtags (>2 million posts) too often as it will be hard to get traction with thousands of new posts daily. A good range of hashtags is 10-20. Do not use the same hashtag every day unless it is your branded one – any other frequently used hashtag may get your profile shadowbanned on Instagram. If profile gets shadowbanned, it becomes less visible to your current and potential followers.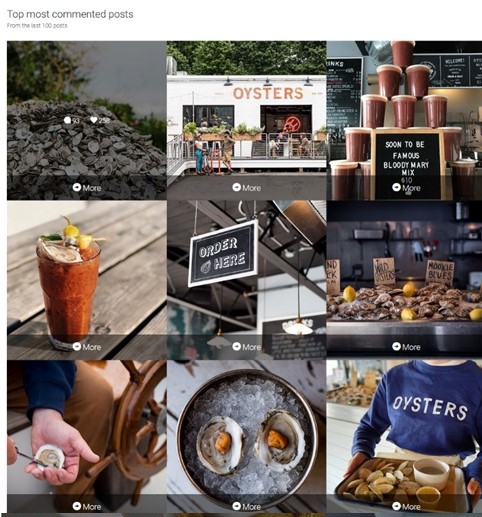 These are some factors that make your Instagram page exciting to your followers:
You are giving love to those who make your business a success – you are being grateful for attention and support from your customers, for following the rules and staying updated; you are expressing gratitude to "past and present staff, farmers, purveyors, neighbors, visitors, and to this place we call home".
You are making announcements so that your customers have enough time to buy shellfish, caviar, tin fish, and merch.
You are interactive with your customers and are offering rewards for their interest in your business – that explains the enthusiasm from your followers who were guessing the number of shucked oysters. People love expressing their opinion, love being heard and love being involved.
You are showing the scale of your operations by creating a nice display of available oysters, by documenting a huge pile of shucked oysters. People get the idea that your business is successful, loved and in demand and they want to experience your food and hospitality for themselves.
You are a lot of ways of call-to-action: "Get some while supplies last.", "SEE YOU SOON, FRIENDS!" "pre-orders are encouraged via email or by calling the shop directly", "come on down to washington ave – your one stop holiday shop for all the oyster lovers in your life!", including the funny one "Come on down and help us shellebrate!"
You are aware that your oyster prices are one of the best in town and you are reminding your followers about endless $1.50 oysters.
You are adding action into your pictures – showing the tray with delicious food that is on its way to be enjoyed, demonstrating the moment of shucking process, showing staff and guests having fun on your territory.
You are offering limited take away menu with specials and incredible prices – that is a perfect emotional trigger for needed actions.
You are giving credit to your partners and creating win-win relations for all "mook sea farm has generously lowered their price to us + we are passing that right on to you. as they say, a rising tide floats all boats!"
You are being creative with value-for-money mixes and deals for your customers.
You are committed "to keeping our staff, purveyors, and all of our guests safe" and you are explaining your new policies and new procedures that are "in place in preparation for welcoming everyone back", such as providing more space for the guests, sanitizing all the surfaces and bringing food directly to the car.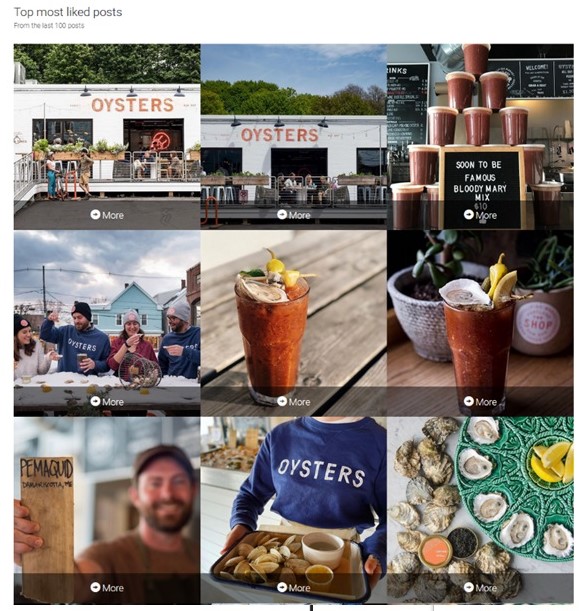 Instagram Basics file has a step-by-step checklist of major mistakes and growth points for any business that is on Instagram, check it out below ⬇️