During my café life Cocktail Mary had been my very close, very favorite neighbor whose incredible frozen pina coladas were divided from me by only one wall, I decided to create a whole specific tailored strategy for this great business. Below you can see some of the extracts from my advice.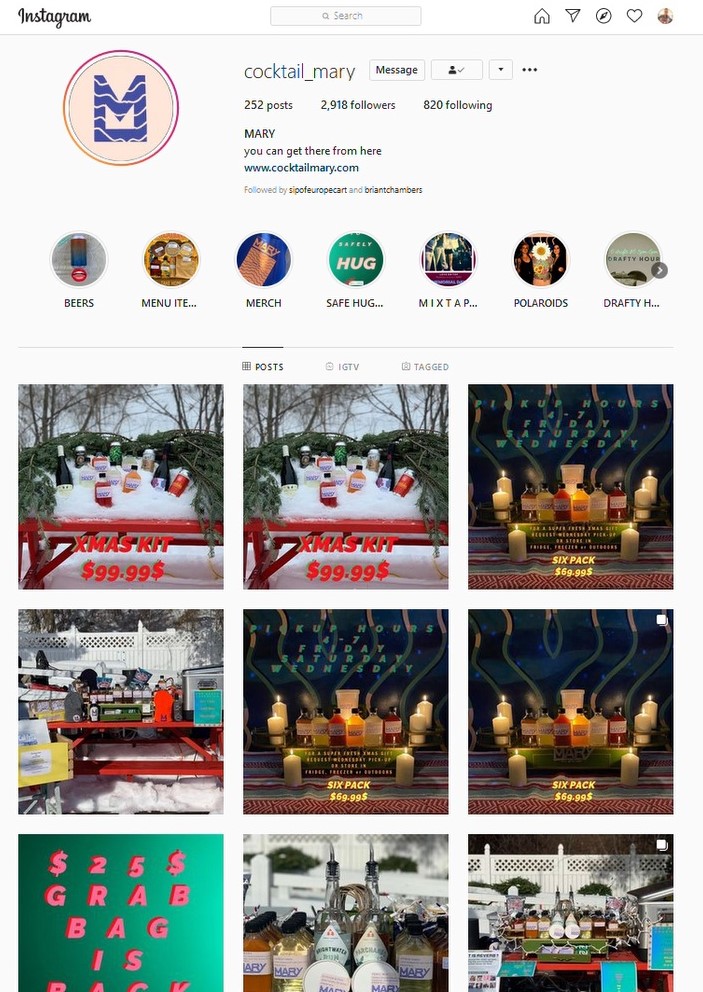 A good idea is to change your search phrase (on Instagram it is called Name, it is the 1st phrase of your account). Right now, it is "Mary". As an example, you can change the existing Name to "Bar Cocktail Mary" or Cocktail Mary Bar. That way it will be search optimized (even though you have a bar as a category listed, it is not participating in the bar and cocktail search).
Instead of the phrase "you can get here from there" which is proudly displayed on your business cards, you can make your page more searchable.
It will be very helpful and convenient to your customers to see your hours displayed. The whole bio could be more informative with a call-to-action.
You can change your bio to:
Fr 4-6, Sa 4-8
Cocktail kits
For pick-up or delivery
See options below ⬇️ or ✔️
If you decide to add some daily specials, make sure to add this information to your bio, too. For example:
Check deals in stories / Check daily deals in stories
Proper highlights make it easier for users to find content they are looking for when they first come to your profile. Potential followers will get to know you and learn about your offerings in a systematic, organized way.
First, try answering questions below, then think of the ways to change your Highlights:
Do you have new mixtapes?
How did you come up with polaroid's idea? Are you planning to make any more pictures?
Change or Get rid of drafty hour – it is not relevant at this current moment.
Update Cocktails highlight- you can reupload previously used pictures (you can even easily find them by looking how long ago was the Stories published
Soft beverages –are there any updates?
Think of changes you can make to your highlights. You can look through your recent stories (plus or minus 3months) and make a phone folder of pictures and videos in which you were tagged.
Possible highlights that could be added:
To-go drinks / drinks to go – photos/videos of your bottles, mention how to order delivery, what your best sellers are and why people choose them over and over.
Press / mentioned / featured / reviews / 🍸Joy / Mary's- showcase your reviews from your customers, captured in Stories, make print screens of nice words on Yelp, Facebook, Google. Let people know that you care about their opinion and that their reviews make your business grow and survive
Flavors or types of liquors: Rum, Whiskey, Tequila. In each section describe the flavors of your cocktails, show processes of making each single drink, play a little bit with your customers, asking to describe each drink (you can leave open-ended questions, make a multiple-choice quiz, or even or a simple emoji arrow with choices "sweet", "balanced", "tart", etc.)
Tag us / Fan grams / Friends / Fans
BTS (behind the scenes)
@ home/ CM at home – could be your merch (t-shirts, pins, etc.), nicely placed bottles with your logo facing the camera, recipes, people trying to follow those recipes it at home
Happy hour /   Specials / Deals
Questions / Q&A
Hot drinks
How to ___
Recipes
Pairings
Best sellers
Instagram Basics file has a step-by-step checklist of major mistakes and growth points for any business that is on Instagram, check it out below ⬇️
If we look at the analytics of your page, the top 100 most commented posts were popular because of the following:
Video format – Instagram users enjoy videos more than any of the pictures, photo galleries, collages etc. (posts 1, 4,9)
YOU are on the video, people love YOU and YOUR business, seeing your face creates a special connection with your followers. They enjoy seeing you and are not shy to express it:
"judithabbott You handsome dude! Good job. I love you!",
"iambaileyrae I could watch you talk til the end of time. Thank you for being the best!!!"
"awheelwood Great now I have videos of you to be waiting impatiently for. More pleeeez. "
"portlandbuylocal 🙌🙌🙌🙌 this is what a local biz leader looks like! Happy 1 yr!"
"katieshewrote HOLY SHIT I LOVE YOU ISAAC AND YOU BELONG ON OUR DIGITAL SCREENS 🌈"
"walkervreeland @katieshewrote yeah we definitely want more video messages"
"foejarr1 Love ya great post."
"babyelfboy Big hugs to you!!! I am forever grateful that you have me a space to share my treasures when I was just starting with Dora Rose ♥️♥️ wish I could be sitting down drinking a glass of bubbles with you and Augusto! Congrats babe!"
"5thandmagnolia Happy one year!! Wish we were in town to celebrate with you – but great to see your smiling face and can't wait to enjoy a beverage soon!"
"mrsjenniferjohansson You are too cute! Love your glasses! Sad I can't drink your yummy cocktails like ole times."
Here is my opinion – You are very positive, likable, and just a great person =) sincere emotions can not be compared to anything else!
See reactions from post #4:
"empschultz This video just cured my acne and seasonal depression"
"_more_glitter_ Going back to LA on the 4th of December but would love to smile and wave at you before we split."
"chartreuse_habits That made me happy. ❤️❤️❤️🥂🥂"
"awheelwood Favorite isaac smile!"
3) You are telling about exiting milestones – people are there to support you…. AND they love your business and your face – see comments below;
"sweetfoxxs77 Congrats Mary's!! What a wonderful space you have created. 💗❤️
"alejaconeja86 I LOVE THIS!!! 😍😍😍😍 The nicest man!! Congratulation on such amazing anniversary! I'm so proud of you two and the hard work and the patience and resilience to keep Mary up. I send you all my love and you have all my admiration ❤️❤️🥰 love you!"
"izakayaminato Happy 1yr🥳❤️🎂 you the best!"
"bonjourbrit Happy 1 year!! LYSM!!! 💗💗💗"
"kari.hodgens Hooray! Happy one year!!! ✨"
"aepv412 Yes, Isaac!!! Happiest of anniversaries 💜💜💜 I love you!!"
"enclave_interiors Happy One Year🥂🍾 Always a delightful walk up the Hill after spending an evening at Cocktail Mary!"
"shearsnswords Thank you. Can't like this enough! I was there at your soft open last year and I can't wait to be back all the time!"
4) You care about people and you make sure they understand that your business is operating as safely as possible (post #1, 5)
"empidden @miss_wanderlust25 @juleskristina We can still go and be safe 😍👍 and happy one year!! ❤️"
"ladyasterfield ✨Yes! Mask on and congrats on the anniversary! I can't wait until I can visit in real life!!!✨"
"radiciportland So well put on all accounts! Congratulations !! ❤️❤️❤️"
You have your own way of addressing your customers – Mary's. It creates a unity, a special community of those who love and support you.
"ironsheika8 Congrats Maries! 4w "
Your words "This will enable us to keep you safe while you are able to enjoy being out in public supporting local business."
Your video-message from #9
5) You bring in a Call-to-action. In your video (post 1) you are saying "Come say hi"; post #2 – "Post your bid in the comments", post #4 – "Check out our Tday pairing kits at our website. Link in bio.", post #5 – "Order on our website (🔗 in bio) for pickup or delivery", post #7 – "So why not throw some Strawberry Daiquiri in there and make it a party!" – people internally agree with you and want to be there for the party AND your drinks and atmosphere
6) You are supporting local businesses, you donate money. Everyone appreciates you and your kindness and wants to be a part of good deed – post 2.
"100% of proceeds from our auction item will go to @portlandbuylocal, committed to supporting Portland business owners and citizens working to counteract the rising influence of national chains through collective marketing, education, and advocacy.
Check out all the auction participants and their items at #indiebids @portlandbuylocal Other participating businesses are tagged in the comments below!"
Post 4 – "Guys! We're @mainepublic supporters! We feel famous!"
7) You are making people's life more fun by adding more items to the menu and creating anticipation of what is coming next – post 3. Also you are showing upgrades to your business (post #3) and making it easier for people to enjoy your beverages in a safe manner – post #8
"We now take reservations
We are thrilled! Find the link on our website or in the @resy app."
8) You are creating great value-for-money deals that save people money (post # 5, "$81 value for only $60!!"). The value of the sets becomes higher than the price – it sounds like a perfect purchase; people see the way to save money and go purchase your set. Your call-to-action is executed beautifully – you are saying "Order on our website (🔗 in bio) for pickup or delivery"
9) You are highlighting your use of local products in post #5 "Featuring TONS of local product, including MORPHOS from…."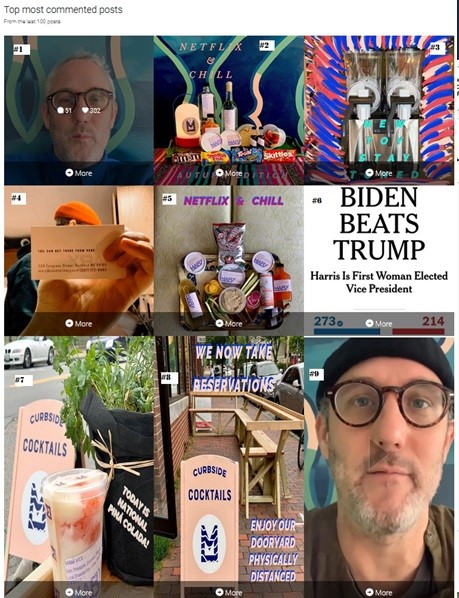 10) You tag in your posts other people, other businesses (post #5). It is psychology – people love being mentioned, they want to reciprocate. They also tag you and their audience – it helps everybody grow!
11) You are expressing your opinion about matters that are not directly connected to cocktail-making, receiving money from customers, or running a bar – post #6
Here are the links to the numbers: first, second, third, fourth, fifth, sixth, seventh, eighth, nineth.
12) If we look at the most liked posts (below), you can notice that adding a human component – not only yourself but happy customers, people who are at your door, in your environment, holding your product gets more love and attention.
13) Your greeting to your followers "Hey, Mary's" creates a special sense of belonging to a Cocktail Mary community, to your team, your cocktail army, supporters and loyal followers. Keep it up in all your verbal communications through videos and Stories. Each day starting with this phrase can be a part of someone's great day routine. What happens is that unconsciously your follower gets used to your voice and might just pop up at your door to get an unexpected spontaneous drink 😉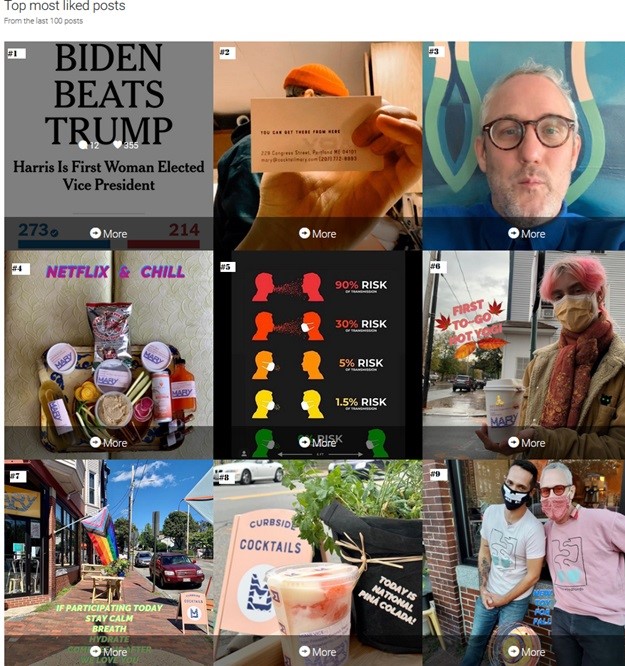 Here are the links to the numbers: first, second, third, fourth, fifth, sixth, seventh, eighth, ninth.
14) Personal stories resonate with other people. The more you share, the more people understand your path, your way of thinking, your heritage. I saw you were tagged in the pictures below. You story resonates with so many other people even if it is told somewhere else.
It will be a great idea for you to create an Instagram guide and add info from various sources about yourself, your business, your life. It is easy to make – check Highlight of my Instagram page called "Insta Growth".