You are bilingual and proud =) reading and hearing Spanish in addition to English adds that special flair, that authenticity that you are bringing through your hospitality and food is incredible! As a person who has a different cultural, language and food background, I am so happy to see authentic representation of your culture through food, using of a different language and just being extra cheerful and wonderful!
Your bio is great and informative, and it works well with attached link that brings curious potential customers to your website. If I had such an awesome page, I would change search phrase from Maiz.Portland to Maiz Portland | Colombian Food or Maiz | Colombian Street Food or Maiz | Arepas | Empanadas. Why would I offer the change?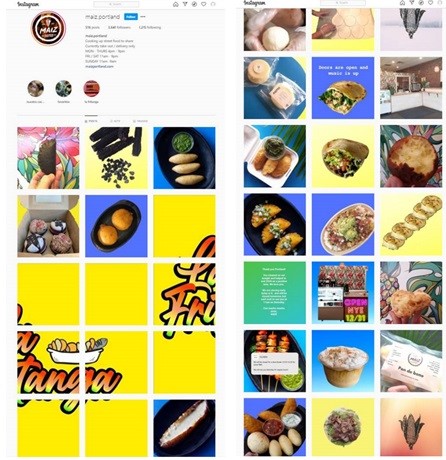 You already use Maiz.portland as your user name. It is already searched through Instagram algorithms, it does not need to be replicated.
Search phrase needs to have spaces between words. Right now, Maiz and Portland are separated by a period without space which makes both words not searchable.
Instagram usually offers accounts that are in a close proximity to its user, so if someone is typing Maiz, that person will see Maiz from Portland first.
When you are searched for by your brand's name, you will be found, but if people are looking for an awesome local business and they see you due to Instagram algorithms, you get new followers who convert into customers or brand ambassadors in an effortless organic way.
With a change of search phrase your page will be organically shown to those people who are looking for arepas, empanadas, Colombian food and may not know that your brand exists.
When you are brainstorming your search phrase, please, remember that you have only 30 symbols including the spacing.
I see that you recently added some highlights! Great job! Highlights are important because they act like a table of content for any Instagram page.
Here are some extra highlights that can educate, entertain your potential customers, and make them informed about your business and your offerings:
Best sellers – name customers' favorite meals from your business! Give your point of view on their popularity. Show most popular flavors from your menu, explain the complexity of flavors (juicy, hearty, light, spicy, soft, crunchy, etc)
BTS Process/ How it happens / Time-lapsed / Our videos – make it fun, make it visual! – give a glimpse of Meal prep that goes into creating different dishes, make people excited by showing the transformation of ingredients. – talk about inspirations behind your dishes, give little details.
Charity – you are doing a wonderful job by providing meals to community and raising money for good causes. Let people know about your initiatives, talk about them, answer questions.
"We are proud to work with the Portland Public Schools to provide weekly meal boxes for local families in need. Each $10 donated fills a kit with pantry staples as well as some prepared food. You can rest assured that every penny of your donation goes directly to filling culturally-sensitive meal kits for local Latinx families – because we all need a little help sometimes."
Culture – talk about interesting traditions, rituals, events that are specific for Colombian culture and citizens. Show pictures or videos of your favorite places. Make people curious about cultural differences, about things that differ. Give a fun proverb or quote =)
Customers' love / Fan grams / REPOSTS / Tag us – pictures and videos made by your customers in which they tagged you and raved about your food and beverages, your amazing desserts.
FAQ / Q&A – answer most popular questions about your services, hours of operations, allergy information.
Founders – tell your story, talk about your hobbies and aspirations!
Happy hour / Specials / Deals – if there is any upgrade for ordering pick up during slow hours or any special price for food or drinks, let your customers know and keep reminding them.
Ordering – explain safety protocols that you have in place, curbside orders, talk about your delivery partner Carhop, mention bestsellers and items that are normally getting ordered together.
Pairing 101 – give recommendation on pairing drinks with your amazing food.
Q&A – how do you come up with your flavor combinations? Do you have a favorite meal? Which meal or appetizer is currently underrated? What would you wish people to try/ order more? Are all the meals gluten-free?
Recipe Testing – if you want to keep your recipies as top secret, you can always google or find on YouTube a plethora of recipes from the Colombian cuisine that you currently do not offer for public. This way you can follow the recipe, give your own advice, and upgrade the final dish to perfection. If your chefs cook that way while talking about their background and showing their authority in bringing authentic flavors to life, people who follow and love the flow of your advice will trust you more with their money.
Sustainability / In house – Sharing your priorities and talking about your values is very important! "We are committed to moving away from mass-produced harina. Did you know we already grind the corn for our arepa 'e huevo and choclo in house?"
Tutorials / Online courses / IG Live Series/ Virtual classes / Workshops – explain how to make a traditional appetizer, salad or dessert, record the video and share it. So many people were excited to join your sauce making live IG broadcast! Offer a prize for a best-looking dish created at home, incentivize people's willingness to talk about your brand! Sell the properly made meals for a limited time so that your customers know which flavor and texture to go for.
As a side note, if your Instagram settings allow you to archive Stories, you can rearrange recent Stories into great Highlights that will make your profile more informing and complete. This way it will be easy for you to arrange special tabs such as "BTS", "Customers' love".
I noticed that you are not using hashtags. They are actually useful for organic growth of Instagram profile. For any post (excluding REELs) I would not recommend using very popular hashtags (>2 million posts) too often as it will be hard to get traction with thousands of new posts daily. A good range of hashtags is 10-20.
You feed is bright and fun, let me know if you are interested in seeing other options of using bright colors other than in the actual pictures' background =)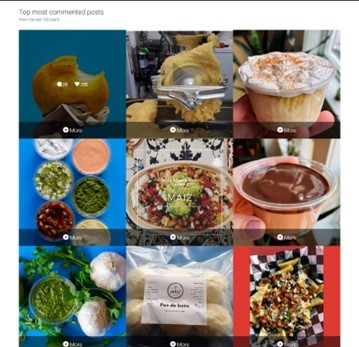 These are some factors that make your Instagram page exciting to your followers:
You are giving thanks to customers and community; with every post you show them your appreciation and that they mean a lot. You are having great interactions with your followers and answering everyone who posts comments.
You are creating anticipation for new upcoming products ("Su majestád la arepa é huevo. Coming soon") and creating limited edition batches. Not only it brings the awareness about your new creations, but also introduces your fans to your website and all its offerings.
You are open to giving a little bit of extra love to your customers, even in the form of free samples.
You are letting people know that you are creating your food from scratch under your own roof and are also sharing some behind-the-scenes processes that show scale of your operations. It creates interest and builds trust in your operations and choices. "We are committed to moving away from mass-produced harina. Did you know we already grind the corn for our arepa 'e huevo and choclo in house?"
You are showing your ingredients in a visual and fun way, being transparent about the inner world of your arepa-nachos, sauces, etc.
You are cross-promoting another local business that makes desserts for you and that type of win-win relations creates goodwill for you and Treat Me baker! By mentioning your partner and tagging her in your posts you are allowing your audience to check those businesses for themselves.
With your pictures and videos, you are giving an insight to the amount of love, care and time that go into each order.
You are eager to share your knowledge with your audience for free. Everyone loves free stuff, everyone loves fun, entertainment and sauce. It is awesome that you are open to idea of sharing your recipe and technique of making sauce super creamy with your followers on live stream – you decided to create your signature sauce in a fun friendly manner that could be easily replicated.
You are Asking Questions in order to learn about your customers' preferences, they love interacting with you.
You are reminding your followers about pick-up and delivery options in your feed and about your food offerings and additions ("rice bowls are back at Maiz – Go with the classic cazuela or build your own 😍", "The beautiful platano maduro… Have it just with cheese or load it up with beans, meat and avocado and call it lunch 😉").
In a customer-friendly way you are showing a great Care about your customers in terms of creating safety protocols, taking all precautions against the spreading of COVID-19 (wearing masks, gloves, etc).
You are being inclusive to gluten-free customers reminding them that you have gluten-free options and naming them "GF chocolate cheesecake by @treat__me – incredibly decadent 🤤 Now available for your take-out."
You are being creative with your ready-to-eat and premade food, keeping it an affordable and exciting option "Subscribe and save! We will bring your favorite Maíz goodies right to your door for you to cook at home. Info at www.maizportland.com", "Cook up your arepas home and invent your own delicious combinations. Make it a subscription and save 10%", ""If you have been thinking about getting our packets of arepas, arepitas and pan de bonos to cook at home – now is the time!"
You are coming up with great deals and discounts for new customers "Head to our website to order under "home deliveries" and we will bring them right to your door! For the rest of the month we will also give you 25% off your 1st home delivery order"
You are using a juicy language to describe your flavors.
You are demonstrating food from different angles and sides, showcasing what is inside
You are supporting civil right organization not only verbally but also in a monetary way. "You know what makes our plantains taste even sweeter? Structural changes through litigation. Saturday – 5% of proceeds join those of other restaurants across the country today to support the NAACP Legal defense Fund. Enjoy this beautiful Juneteenth with a sweeeeettt plantain 😉
Please join us next Saturday as we pool our efforts with small restaurants across the country to support the NAACP Legal Defense Fund!"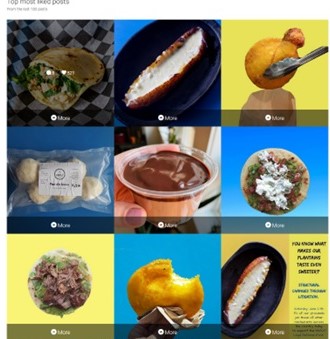 Instagram Basics file has a step-by-step checklist of major mistakes and growth points for any business that is on Instagram, check it out below ⬇️