I like how laconic your bio is. However, it could be enhanced by more information.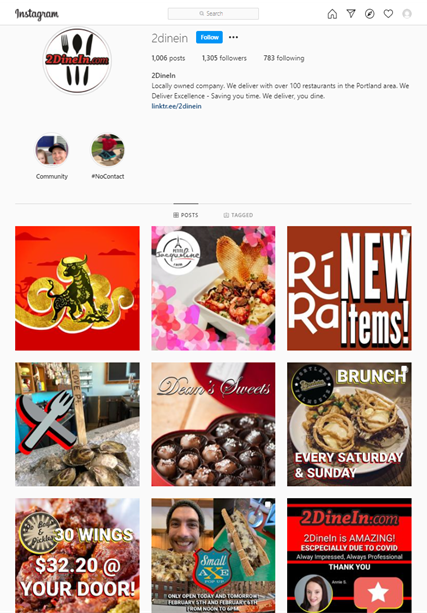 If I was in charge of the account, I would try to line up the selling points to make it more visual = memorable:
We deliver, you dine
Locally owned, est. 2007
We service Portland & Brunswick areas
We partner with over 125 Restaurants
We Deliver Excellence – Saving you time
Or
We deliver, you dine
Locally owned, est. 2007
We service Portland & Brunswick areas
We partner with over 125 Restaurants
FREE 1st time delivery
Or
We deliver, you dine
Locally owned, est. 2007
We service Portland & Brunswick areas
125+ Restaurants
When you change your bio, remember that the limit is 150 symbols, including spacing.
Your current Search phrase (first line under account name) is "2DineIn" that replicates your account name and does not increase your searchability. I would change it to a phrase that can help you rank higher in search due to Instagram algorithms: "2DineIn | Local Food delivery" or "Local food delivery | Portland" or "Restaurant delivery | Portland" (written without quotation marks, of course). When you think about changing the phrase, please, remember that you have only 30 symbols including the spacing.
When you are searched for by a specific name of your business, you will be found. However, if people are looking for an awesome local business and they see you due to Instagram algorithms, you get new followers who convert into customers or brand ambassadors in an effortless organic way.
I love that you are using a link- aggregator that shows information about your locations, invites new restaurants to join, display gift card information and reveal FAQ.
It would be a great idea to add the first free delivery code to your multi-link launchpad. This way customers will remember seeing it and will know where to look for it. Whenever I go to your website, I see the free delivery code for a few minutes and after that it disappears.
Account has Stories from time to time, two highlights with 3 Stories. Account could be enhanced with videos of your behind-the-scenes actions, food-making processes of partnering restaurants, gamifications; fun, educational, and inspirational content.
Highlights act like a table of content for your Instagram page. Possible highlights:
American / Asian / Barbecue / Mexican / Pizza, etc – showcase appetizers, meals and drinks from your restaurants- partners before they are packaged, talk about most popular items from each eatery (you can do that we the help of statistics). Let owners tell Stories about their brand, highlight people who feed Portland, Brunswick, and areas! Create expectations, make offerings of your partners appealing and super flavorsome.
Ask us / FAQ / Q&A – you can use the most popular questions that you answer on your website, such as: How do I place an order?, Can I cancel my order? How do I contact you? When can I expect delivery? Can I place an order in advance? Is there a minimum order requirement? Who sets the prices on your site? What if I need to make a change to my order?
Best sellers – name customers' favorite dishes and bottled drinks from each restaurant! Give your point of view on their popularity, show pictures, videos – create a cool collab with each restaurant, with photographer or two and an eager food model, who will be happy to eat that food and be filmed while doing it.
Breakfast / Brunch / Lunch / Dinner– In each section talk about most popular options and second/third best dishes per category: oatmeal bowls, smoothie bowls, sandwiches, soups, etc.
BTS Process/ How it happens / Time-lapsed – make it fun, make it visual! – give a glimpse of Meal prep that goes into creating different dishes, open the veil of mystery of timeframes from the moment of ordering food to actually receiving it.
Giving back – You are supporting different non-profit and for-profit organizations and charities with your kindness, money and out-of-the box thinking. My business was got to see it first-hand during Covid times, I am so grateful for your cordiality.
Our partners – talk about stories of partnering restaurants, owners behind it. People love storytelling and hearing about other people's path, traditions, ideas and passions.
Our team / Staff fun / Staff facts/ Meet us – according to your information on the website you have extraordinary people who work for you as a part of your team. Let them tell their story, express their ideas, share their inspirations. Give information about them in context of your business. For instance, in addition to asking them about their favorite movie and Band 10 years ago you can ask to name top 3 favorite eateries- partners and top 3 meals from each of the establishment. This way you will increase awareness about food offerings of your own partners and food preferences of your own employees!
You love / Customers' ❤️ / Tag us / Reposts – pictures and videos made by your customers in which they tagged you and raved about their experience with your company.
As a side note, if your Instagram settings allow you to archive Stories, you can arrange those Stories into great Highlights that will make your profile more informing and complete (BTS, different cuisines, Your love, etc).
Hashtags will look better if added to comment section, not to the main post – less distraction for your reader. I noticed that you have a set of hashtags that you repeat in some of your posts: #supportlocal #shopsmallportland #buylocalportland.
Frequently used hashtags may get your profile shadowbanned on Instagram. If profile gets shadowbanned, it becomes less visible to your current and potential followers.
For any post (excluding REELs) I would not recommend using very popular hashtags (>2 million posts, like #supportlocal, it has over 24 million) too often as it will be hard to get traction with thousands of new posts daily. A good range of hashtags is 10-20.
Instagram Basics file has a step-by-step checklist of major mistakes and growth points for any business that is on Instagram, check it out below ⬇️
I know you are advertising on social media and I hope it is bringing you great results. I see 4 active campaigns right now with 3 static images and one video format. Statistically video formats result in a higher engagement due to more information that is shown and dynamic rhythm.

You need to show your unique selling points – when March lockdown happened in 2020, the only way I could be making money was by selling take-out food instead of having higher profit margin items and the ability to upsell indoors. I needed to sell more expensive product from my menu and I needed to create a systematic flow of income instead of relying solely on delivery services and take-outs.
With targeted ads I was able to get my unique product – crepe cakes in front of proper audience to raise awareness about selling those. Since no one else was making those, once people heard that a dessert like that existed, they could just google it when time was right. By the end of a first lockdown month people were craving a little bit of sweetness to add to their life and they knew exactly where to find it and how to order it. Before Mother's Day I sold dozens of cakes and was showing up on people's feed not only through promotions but in an organic way by being tagged and complimented on a great dessert.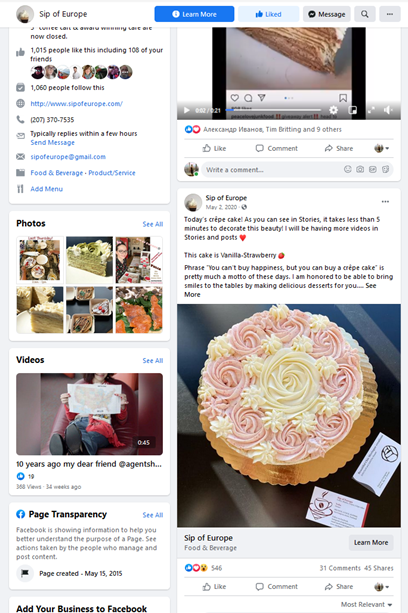 Going back to your promotions. Some of your ads are not self-explanatory like the one for Hi Bombay restaurant. There is no motion, no introduction, no extra information, only one picture and two brand names. If a customer has never heard the brands "2DineIn.com" or "Hi Bombay Restaurant", he might have a few questions: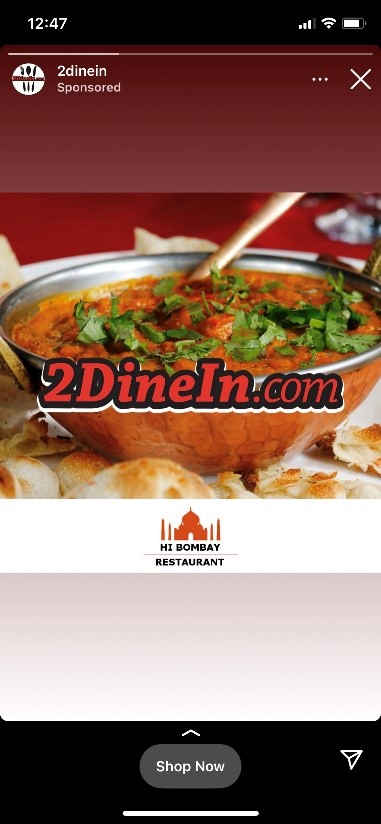 What services are offered? Is it a food photography? Is it a free recipe from a recipe blog? Is it an ad for a bread that could be found in a grocery store nearby? Is it an event invitation?
If you are speaking about food-related services, where are those offered? Which country? State? City? Believe it or not, ads which are sown to improperly selected audiences are very common, I get offers for physical perishable food like cakes from Australia or California from businesses that do not ship.
When people are not offered any information, it makes a potential customer take more unnecessary steps to figure out the offerings of your brand OR makes him irritated. If a person is annoyed, in bad mood or sees such an ad twice or more times, he can report your ad (as a spam or misleading ad) or hide it (Instagram offers the following reasonings: "It's irrelevant", "I see it too often", etc), that will affect your campaign.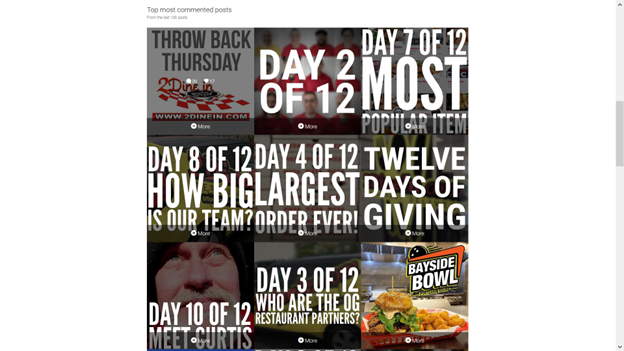 Below are some factors of your best-performing posts that made your Instagram page exciting to your followers:
You are Being open to giveaways in exchange for information about interests and increased word-of-mouth. You are interactive with your customers and are offering rewards for their interest in your business – that explains the enthusiasm from your followers who were introduced to a guessing game. You were asking a variety of questions about backstage information, your team, your partners, fun facts. People enjoyed it so much and were quite active! Everyone loves expressing their opinion (especially if there is a nice bonus to it), loves being heard and loves being involved.
You are cross-promoting other local business and that type of win-win relations creates goodwill for you and them! By mentioning your partners and tagging them in your posts you are allowing your audience to check those businesses for themselves.
You are supporting local businesses not only by shoutouts, but also by buying their certificates.
You are sharing positivity with people and showing community support.
It is awesome that you are expanding your services to more locations and that you are sharing milestones.
You are creating anticipation for new upcoming partnerships & you are announcing exciting collaborations with very popular and loved local businesses.
You are letting know about safe ordering – contactless pick-up. You are making sure people know your selling mottos "Deliver Excellence – Saving you time. We deliver, you dine.". People have less objections for ordering from you.
You are creating a closer connection with your readers by sharing some cool behind-the-scenes information, including the most expensive order, etc
You are choosing safety and happiness of your employees over profit, deciding to give them a break for Christmas holiday, making sure their work conditions are safe (even during snow days).
You are tagging other businesses in posts – that gets attention from mentioned businesses, reposts and allows you to get in front of new audiences.
You are caring, compassionate and understanding. Getting food delivered keeps people feed and feel less alone. Your written mission on website and your actions show that you care about everybody, that your brand is inclusive and human-centric.
Quotes from your website "We are a Christian owned company and try to honor Jesus through our service, our values and our commitment to excellence. We love Maine and have a heart for growing our community by hiring amazing local team members and partnering with locally owned restaurants. We at 2DineIn love all people. And we love God. We welcome all. We serve all. We do it joyfully. We always try our best. We dont judge, we dont discriminate. We just want to serve."
You are showcasing social proof of being chosen by customers and being highly rated – integrating review into a visual post and thanking the customer. 🌟🌟🌟🌟🌟 "The customer service is extremely accommodating and friendly if you ever have an issue. We've used them for years"
You are answering promptly and reaching out to the partners for prompt and detailed answers.
Example – "is the poutine no longer vegetarian?
2DineIn @gafromma that's a really good question, @baysidebowl do you know? 1w
Baysidebowl @gafromma the poutine is vegetarian! Just double checked with our chef and we'll get that notation added to the menu. Thanks for checking in! 1w
Gafromma @baysidebowl yassssssssss! Guess who has two thumbs and is getting that for delivery this weekend!? 🙋🙌"
You are using newsjacking. Newsjacking is the process of injecting your brand into the day's news, creating a twist that grabs eyes when they're open widest. On Betty Whites' 99th Birthday you made a post in connection to her favorite food: "Did you know her two favorite foods are Hot Dogs and Fries?!?!" It is awesome that you mention a great local business in your post ("I know I'm getting some at Docks Seafood today!"), it would be even better if you tagged them @docksseafoodsopo.
Your calls-to-action come in a very natural and friendly way and they motivate people to take actions:
Think you can guess what this item is? Comment below and maybe you will win a $20 gift card to a restaurant that services it!
Tag a restaurant that you want to see become a partner with 2DineIn. That's it.
Leave multiple comments for even more chances to win!
Think you can guess what this item is? Comment below and maybe you will win a $20 gift card to a great local restaurant.
Swipe to see their menu.
You are being inclusive to people with specific food preferences because you partner with every take-out friendly eatery!
You are bringing a personal approach to bringing joy and wishing great holidays – I loved your cute Merry Christmas video.
In a customer-friendly way you are showing a great Care about your customers in terms of creating safety protocols, taking all precautions against the spreading of COVID-19.
You are making sure you have appetizing videos from one of your partners and a nice captions like this one "Plenty of options for delivery this evening! @othersidediner makes up some really tasty breakfast! Ready for a little brunch?"
Asking for your customer's opinion – "PS: If you could comment saying if you like that we are adding the menu's to our post that we really helpful".