You have a great bio, I would change search phrase from Mami  to Japanese Street Food or Japanese Street Food | Maine. When business adds information that could potentially be searched on Instagram, it will be shown among the first Japanese food eateries due to Instagram algorithms.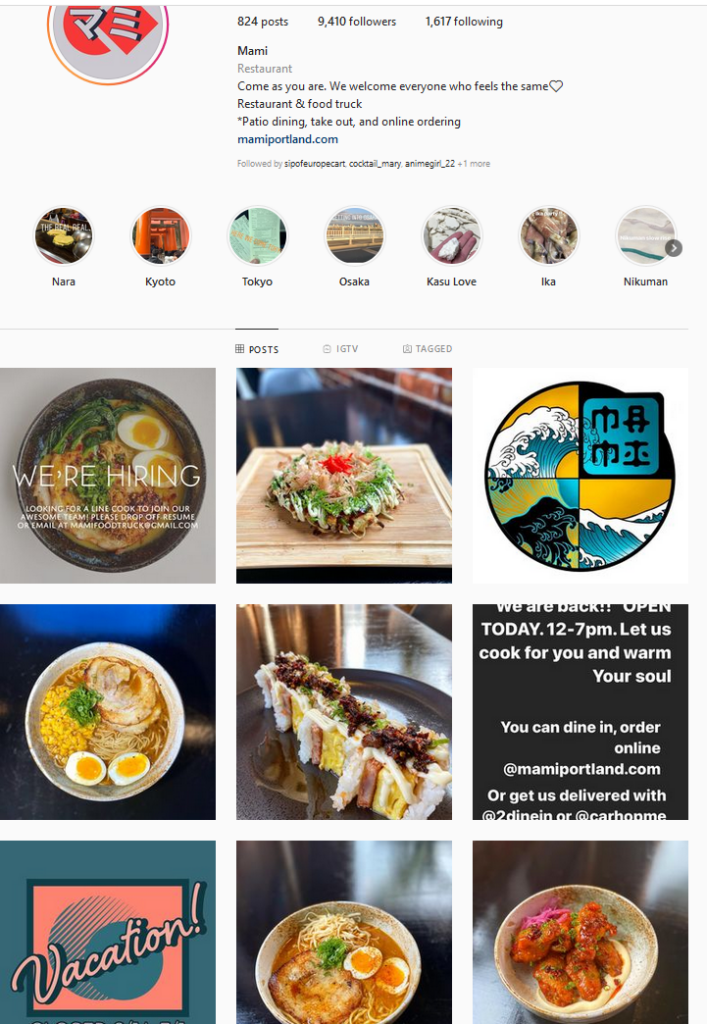 When you are searched for by a specific name of your business, you will be found. However, if people are looking for an awesome local business and they see you due to Instagram algorithms, you get new followers who convert into customers or brand ambassadors in an effortless organic way.
Account has Stories during work days, showing some of behind scene magic and User-generated content. Highlights are great and give a taste of culture that your restaurant represents.
Your Instagram page could be enhanced with you background, special moments that lead to the success of your business, some honorable mentions. The day your segment aired on Chopped, I got the whole month subscription to see you compete! Before that TV appearance I did not know half of your goals, dreams, and aspirations!
Here are some extra highlights that can educate, entertain your potential customers, and make them informed about your business and your offerings:
Best sellers – name customers' favorite food items from your Shop! Give your point of view on their popularity. Show most popular flavors from your menu, explain the complexity of flavors. Educate on all your offerings as if you were consulting a person who has never tried Japanese cuisine before.
BTS (behind the scenes) / Process/ How we make it – talk about inspirations behind your dishes, give little details.
Culture – talk about interesting rituals, events that are specific for Japanese culture and citizens. Make people curious about cultural differences, about things that differ. Give a fun proverb or quote =)
I loved how you shared some interesting facts under one of your posts "In the Japanese culture, we say, "itadakimasu," before we eat. It literally translates to, "I humbly receive." We are taught to respectfully thank the people who made it possible to have the food in front of us, where our food comes from, and how it is prepared. At the end of a meal, we say, "gochisousama," which translates to, "It was a feast/thankful for the meal.""
Customers' love / Fan grams / REPOSTS / Tag us – pictures and videos made by your customers in which they tagged you and raved about your food and beverages, your amazing desserts.
FAQ / Q&A – answer most popular questions about your services, hours of operations, allergy information.
Happy hour / Specials / Deals – if there is any upgrade for ordering pick up during slow hours or any special price for food or drinks, let your customers know and keep reminding them.
Ordering – explain safety protocols that you have in place, curbside orders, talk about your delivery partner Carhop, mention bestsellers and items that are normally getting ordered together.
Our faves/ Approved – businesses with whom you collaborate, your favorite establishments, businesses that you personally order from and which you can recommend.
Our team /Staff fun / facts – talk about background of your work family. People love storytelling and hearing about other people's stories and personal and professional growth, share their inspirations and some facts about their life.
Pairings – tell your customers about elevating the flavors of your snacks, meals, rice bowls through pairing with relevant wine, sake, beer.
Reviews / Press / Mentioned / Featured – showcase your reviews from your customers, captured in Stories, make print screens of nice words on Yelp, Facebook, Google. Let people know that you care about their opinion and that their reviews make your business grow and survive. I truly love your business and your food and my review is the most recent and easy to find 5* one on Google =)
As a side note, if your Instagram settings allow you to archive Stories, you can rearrange recent Stories into great Highlights that will make your profile more informing and complete. This way it will be easy for you to arrange special tabs such as "BTS", "Customers' love".
I noticed that you tend to use the same set of Hashtags below each post. Hashtags will look better if added to comment section, not to the main post – less distraction for your reader. Also they could be more location- specific (for example, #lovemaine #downeastmaine #mainecoast) and product-specific (like #quarantineeats #uniquefood #dinnergoals #japanesecuisine).
For any post (excluding REELs) I would not recommend using very popular hashtags (>2 million posts) too often as it will be hard to get traction with thousands of new posts daily. A good range of hashtags is 10-20. Do not use the same hashtag every day unless it is your branded one – any other frequently used hashtag may get your profile shadowbanned on Instagram. If profile gets shadowbanned, it becomes less visible to your current and potential followers.
In short, I can say that you have a very visual, bright and appetizing profile. Your food is beyond delicious. Your family is beautiful, and you have a lot of great stories to tell! As a business owner you are spreading a lot of kindness towards other entrepreneurs, partners, contractors, and vendors.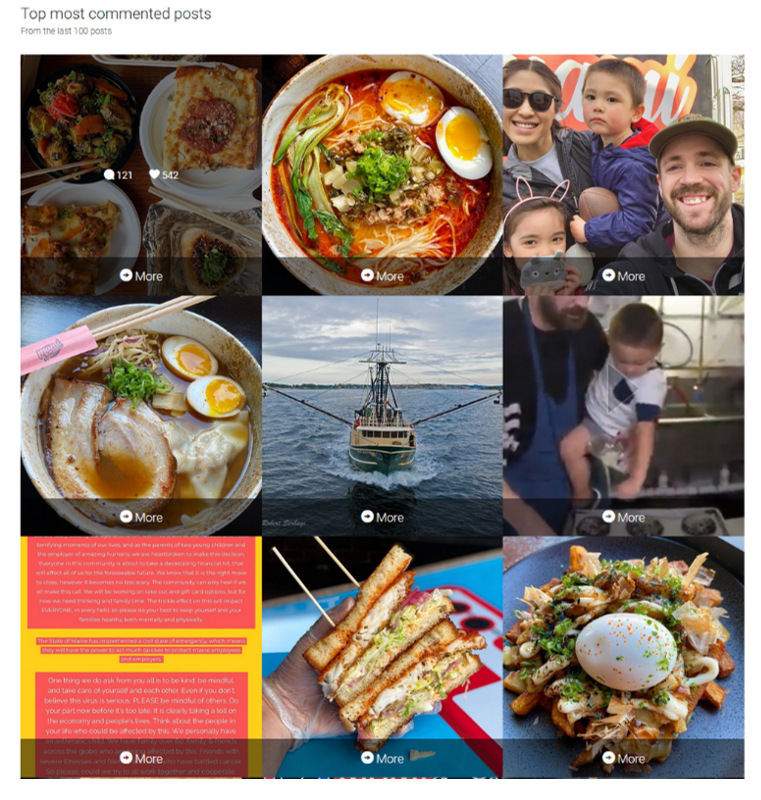 Here are my ideas on why your posts are so loved and well-commented:
You are announcing exciting collaborations with very popular and loved local business – Noble Barbecue. It was a good idea to tag your partner in your post– that way you got reposts and new mentions which allowed you to get in front of new audiences.
You are staying positive during these weird Covid times "Spread love, spread cheer, and keep your heads up. We will make it through this."
You are a great storyteller, and your stories explain your personal connection to seafood industry, appreciation of other culture.
You are open to partnering with delivery companies and are offering your customers convenience of getting ready-to-eat food which you haven't cooked for take-out orders before (like Ramen – "We had so much fun cooking Ramen this weekend, (never thought we would do ramen to go, but hey, shits crazy right now.) Thank you to everyone who ordered takeout ❤️❤️❤️❤️❤️. It feels so weird to put it in a Togo container, but we still had a blast!!"
You are asking your customers and potential customers about their opinion, engaging with them and implementing offerings according to gathered feedback.
You are sharing milestones, personal and business points of growth, problems, and struggles.
You are giving thanks to customers and community; with every post you show them your appreciation and that they mean a lot. You are also praising your team, your co-workers and are giving them all the love and respect they deserve.
You are being creative and offering some exciting meals that will spice up regular menu.
You are great at using calls-to-action: asking your customers questions, encouraging them to check your stories, talking about ordering options: pick up, delivery and "Come warm your soul" invitation.
In your interviews and captions under Instagram posts you are a big advocate of buying local and being thankful for "our fishermen, farmers, fellow business owners, friends, family, staff, health care workers, teachers, childcare workers, delivery drivers, postal workers, grocery store workers, volunteers, and everyone else that makes it possible to get by every single day."
You are showing a great Care about your customers in terms of creating safety protocols, taking all precautions against the spreading of COVID-19 and also explaining details of your cleaning processes.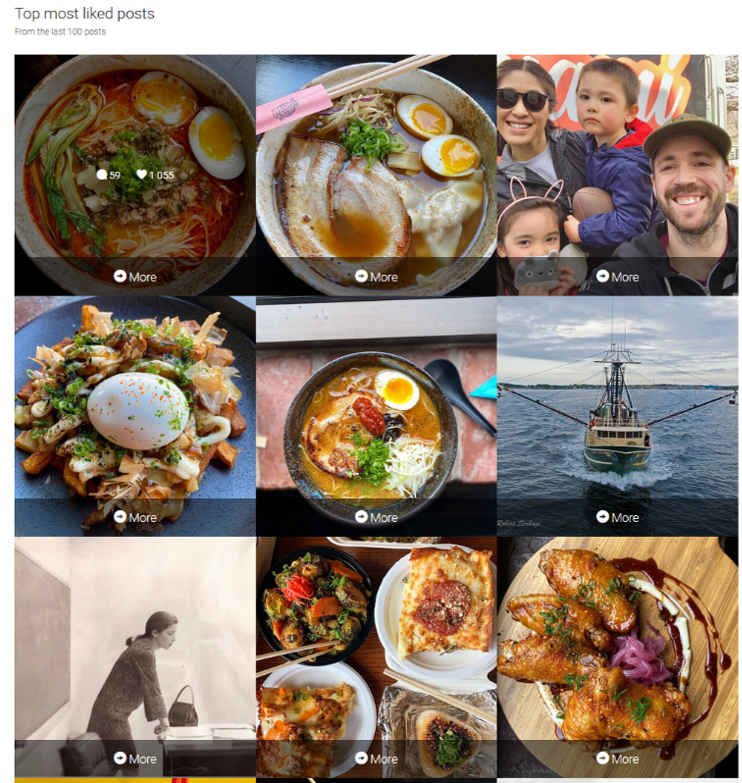 Instagram Basics file has a step-by-step checklist of major mistakes and growth points for any business that is on Instagram, check it out below ⬇️