You've got a great search phrase and information on the bio. Since the shop has a business account and has your phone linked to the contact form, you can write more about your offerings in the bio instead, for instance about cheese boards, prepared foods, etc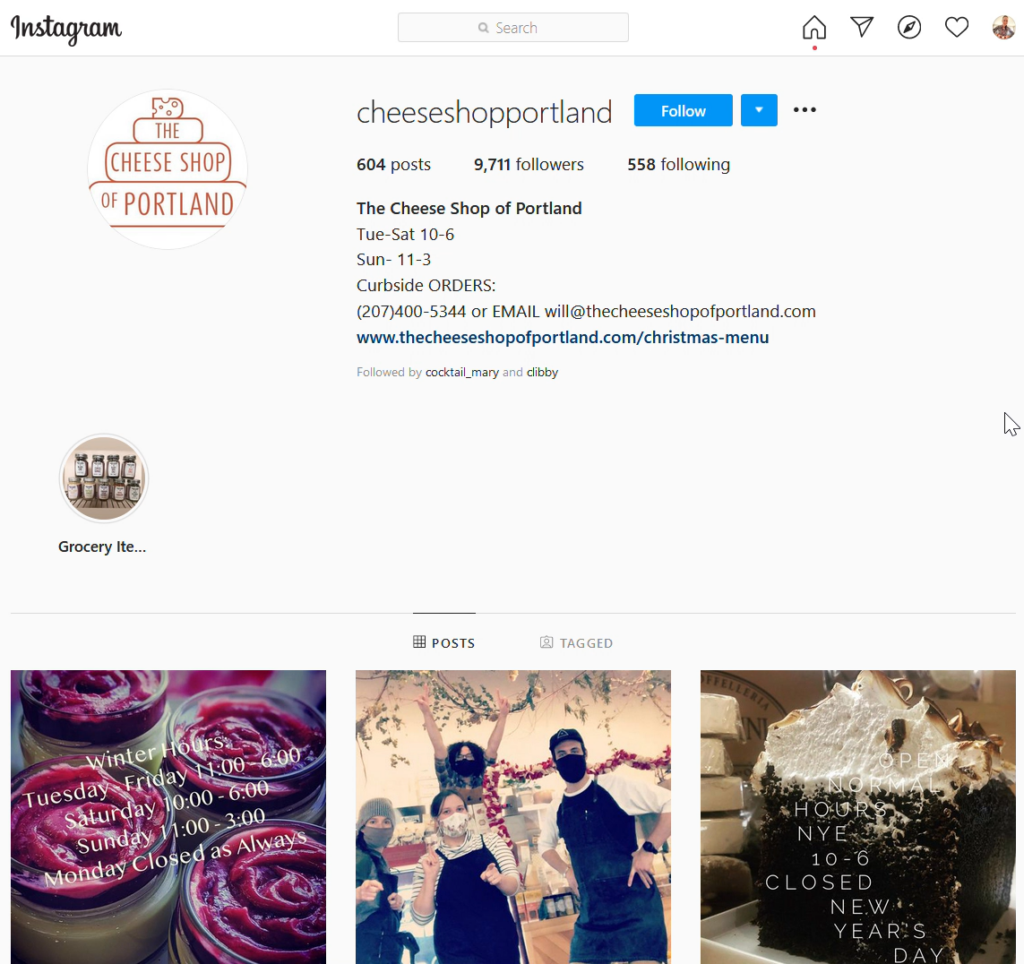 Before winter break your account did not seem to show Stories very frequently. This Instagram function allows businesses to remind about offerings, make curious and interested in coming in for a purchase. Profile could be enhanced with videos of processes: cheese board creation, slicing meat, cutting cheese: your storytelling and showing food items from all angles; engagement with your customers. I personally loved coming to the shop during pre-Covid times and listening about stories of cheese. I loved beautiful presentation of cheese and charcuterie board that was created for my Yelp Elite event (🠔Yelp reviews and pictures) "Yelp Savors the Flavors from Beyond the Pond in Portland, ME" (short description).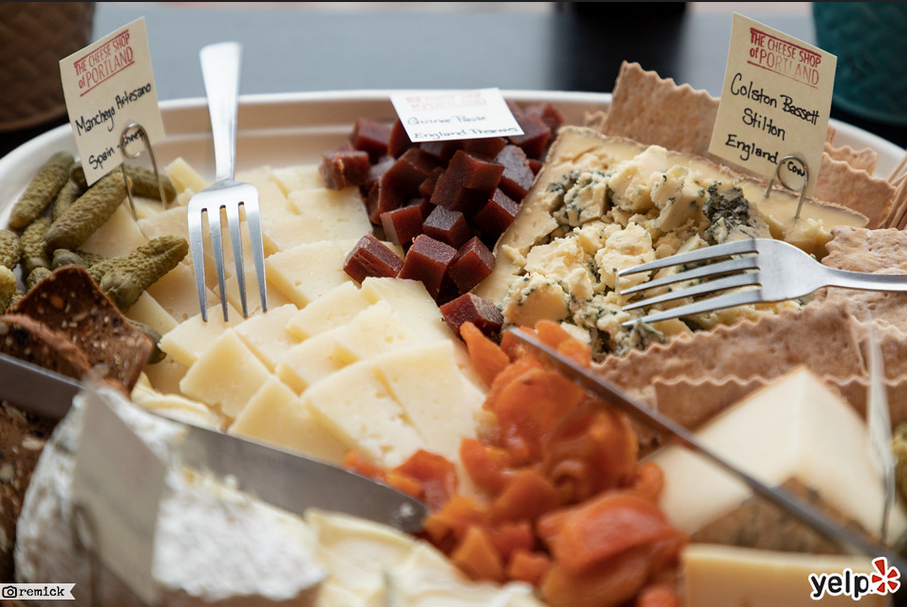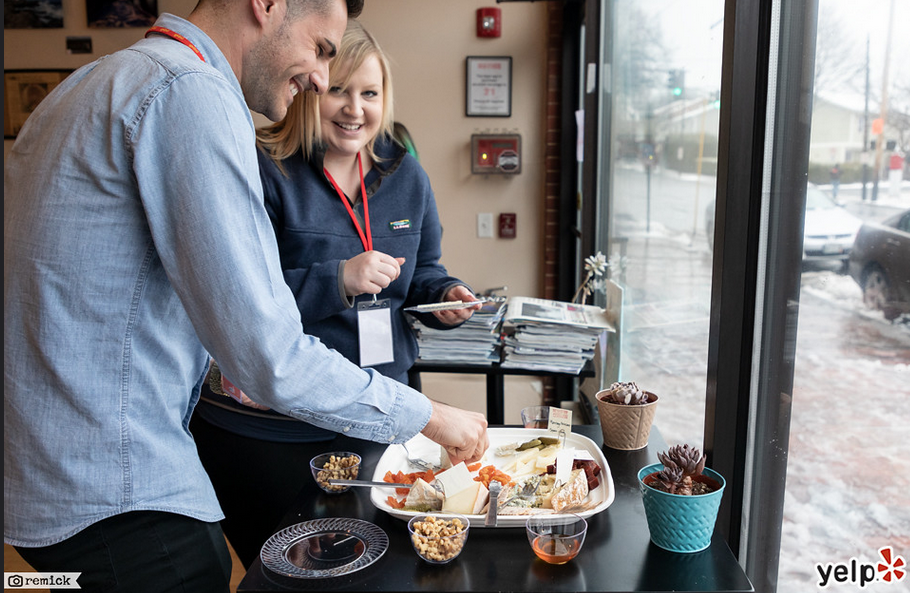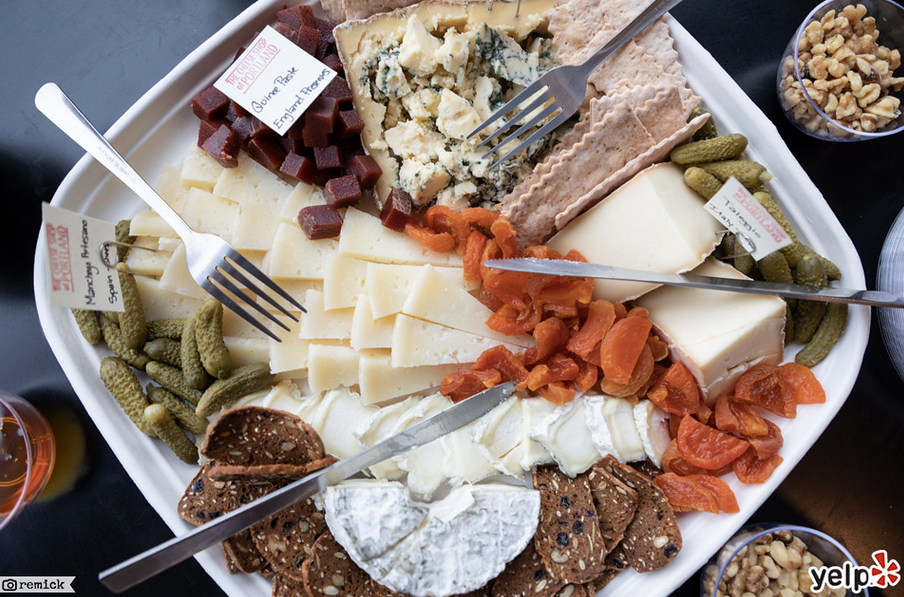 Right now there is just one highlight on the profile. Highlights act like a table of content for your Instagram page. It could be expanded to the following:
Cheese boards/ Charcuterie / Cheese Love/ Charcu Love / Platters – you have a set of beautiful boards made at your location; other local businesses also use cheese from your shop. Tell more about Cheesemonger's Selection
Cheese of the day/ of the week – tell stories about specific cheese (I love how you describe your offerings – "We found savory flavors of browned butter, horseradish, with a juicy acidity!"), give an incentive to buy it – special discount, BOGO offer, etc.
Collabs – businesses whose products you have in store, with whom you already collaborate or want to collaborate – you can provide some of your cheese samples to @gatheringboardme for a photo/ video review and a possible mini board– her cheese board styling is exceptional.
Customer dishes / @ home – if you are getting tagged by customers who made beautiful food arrangement with your cheese and meats, thank them, and repost their photos and videos!
Desserts – showing available desserts
DIY – tips and tricks on how to choose honey, fig jam that will go well with cheese, olives, sliced deli meats, cured meats (charcuterie). Photo, videos will be great.
Favorite finds / top picks / best sellers – yours personal or your customers' favorite food items. I had so many types of cheese there and I still remember the story about a particular cow in Vermont whose milk was used for a very delicious cheese.
Ordering – explaining the safety protocols that you have in place, Curbside orders
Prepared foods / Premade foods – tell more about your offerings visible on your website: meatballs, tomato sauce, salads, granola, soup, focaccia…
Press – honorable mentions
Q&A, FAQ – for instance, favorite cheese+ wine pairing, charcuterie + wine pairing, favorite thing to put on board, what is your favorite spread or dip, etc.
I would highly recommend checking my Instagram Basics file (pdf is embedded to the page) to see the benefits in advancing your online presence.
Great follower interaction – answering followers' questions, making sure that they are aware of all your offerings and needed information.
Strengths of your profile – Personal presence, personal stories, real emotions captured on the pictures, highlighting your employees and owners, and showing personable details. Also, by reading descriptions of your cheese offerings and other products everyone can feel the love and care that you have for your business and customers.
Hashtags will look better if added to comment section, not to the main post – less distraction for your reader. Also try adding more location- specific hashtags (for example, #lovemaine #downeastmaine #mainecoast) and product-specific (like #charcuterieboard #charcuterieboardsofinstagram #cheeselover #cheesey).
For any post (excluding REELs) I would not recommend using very popular hashtags (>2 million posts) too often as it will be hard to get traction with thousands of new posts daily. A good range of hashtags is 10-20. Do not use the same hashtag every day unless it is your branded one – any other frequently used hashtag may get your profile shadow banned on Instagram. If profile gets shadow banned, it becomes less visible to your current and potential followers.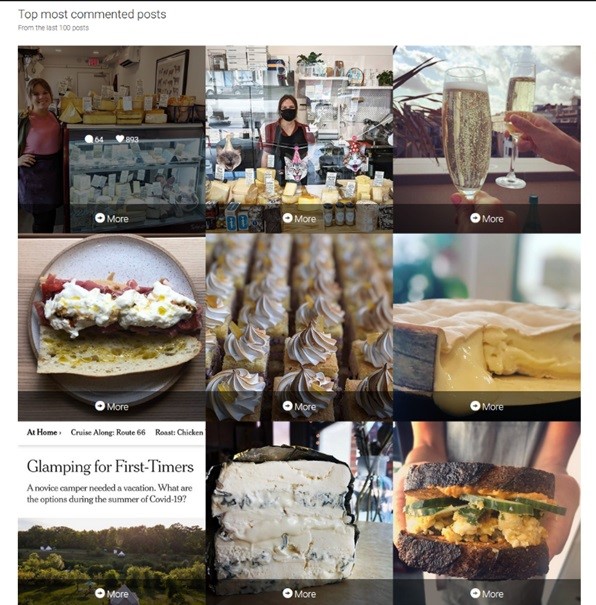 Below you can see some factors that make your Instagram page interesting and converting into sales from your followers who come to the store:
You are sharing milestones, personal and business points of growth, problems, and struggles.
You are giving thanks to customers and community; with every post you show them your appreciation and that they mean a lot. You are also praising your team, your co-workers and are giving them all the love and respect they deserve.
Despite knowing that some people might have a different political view, you are proudly expressing hope for good changes and "possibilities that Democracy can bring".
You are using and showing great use of local ingredients and suppliers.
You are tagging other businesses in posts – that gets attention from mentioned businesses, reposts and allows you to get in front of new audiences.
You are revealing beautiful inside world of snacks, sandwiches. Pictures give a very clear idea of how tasty your food is.
You are practicing persuasive writing while actively adding call-to-action in captions under your posts ("Come by tomorrow to peruse all of the goodies and get a jump start on treating yourself and the family to some extra special treats. We've all earned it this year!", "Jump on this baby early", "Come snag one for lunch!", "Come by tomorrow")
You are taking advantage of emotional triggers and words that provoke enthusiasm.
You are describing your creations and offerings in a very mouthwatering fashion (Blueberry Buttercream, Bergamot Marmalade, and Toasted Meringue)
You are showing action on your pictures, viewer can see melting cheese that he wants to enjoy; hands that are ready to take a piece from a dish and send it to mouth to savor.
You are mentioning your achievements such as being featured on The New York Times and giving printscreens so that your followers can conveniently see the article on your profile.
You are making announcements about special hours that you add for your customers' convenience and special offerings ("We will also be open on a rare Monday tomorrow from 10-6! Oh and this Torta Mascarpone is back for the holidays 😍")
You are showing the scale of your business activity – displaying sets of boxes with delicious "Panettone, nougat, cookies, and chocolate that you have been dreaming of all 2020 long" and also holding big wheels of cheese.