You have a great bio! I would change search phrase from Radici to Radici Pizzeria or Radici Pizza. When business adds information that could potentially be searched on Instagram, it will be shown among the first pizzerias due to Instagram algorithms.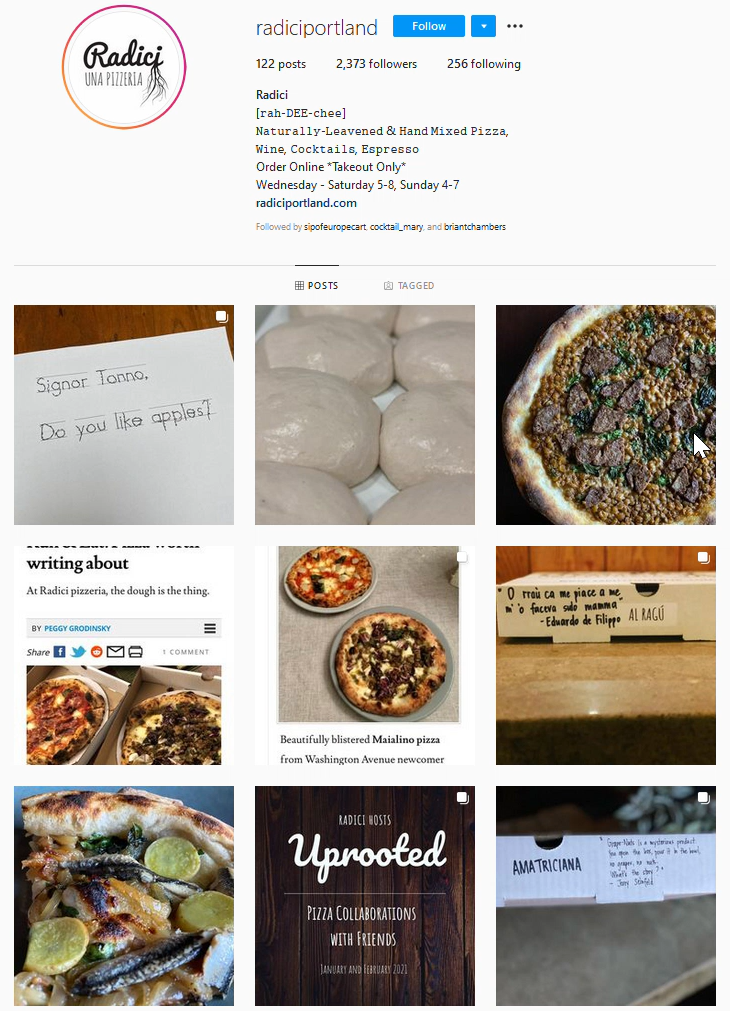 Account has on average 2-4 Stories on a daily basis, no highlights. Your page could be enhanced with videos of processes, interactions with people. I loved video of your pizza making from scratch for portlandfoodmap, great Portland blogger who gives the best systemized information about food establishments.
Highlights act like a table of content for your Instagram page. Here are some relevant to your profile highlights:
Collabs – you can mention places that you already collaborate with, your favorite cocktail bars, businesses that you personally order from.
Desserts – pictures, videos of your currently available desserts.
Drinks – you can tell about non-alcoholic beverages, about the characteristics of wine.
FAQ, Q&A – answering most popular questions about your services, hours of operations, allergy information.
Features – mentions of your business. You can look through the tags of your business and repost them to Stories. Also, you can create a guide with pictures of your pizza featured by other Instagram profiles
Frozen pizzas – if you decide to go that route
Homemade / At home / DIY pizza – if you start selling the premade dough
Pairings – show which wines elevate experience of eating different pizzas
Pizza fans/ tasters / pizza lovers – perfect highlight for reposting photos and videos made by your customers
Process/ How we make it/ Pizza in action – you can repost Stories of you making pizza from scratch for portlandfoodmap
Pizzeria Radici has a very visual profile, beautiful outside and inside view that people love, appetizing food pictures of a great quality with visible and tempting ingredients.
Great captions, storytelling (about making pizzas on weekends with a family), information about ingredients, technology.
Great follower interaction – answering followers' questions, making sure that they know exactly what you offer and what is not on the menu yet (like gluten free options).
Hashtags will look better if added to comment section, not to the main post – less distraction for your reader. Also try adding more location- specific hashtags (for example, #lovemaine #downeastmaine #mainecoast) and product-specific (like #pizzachef #pizzadough #pizzaday #pizzagram #pizzaislove).
For any post (excluding REELs) I would not recommend using very popular hashtags (>2 million posts) too often as it will be hard to get traction with thousands of new posts daily. A good range of hashtags is 10-20. Do not use the same hashtag every day unless it is your branded one – any other frequently used hashtag may get your profile shadow banned on Instagram. If profile gets shadow banned, it becomes less visible to your current and potential followers.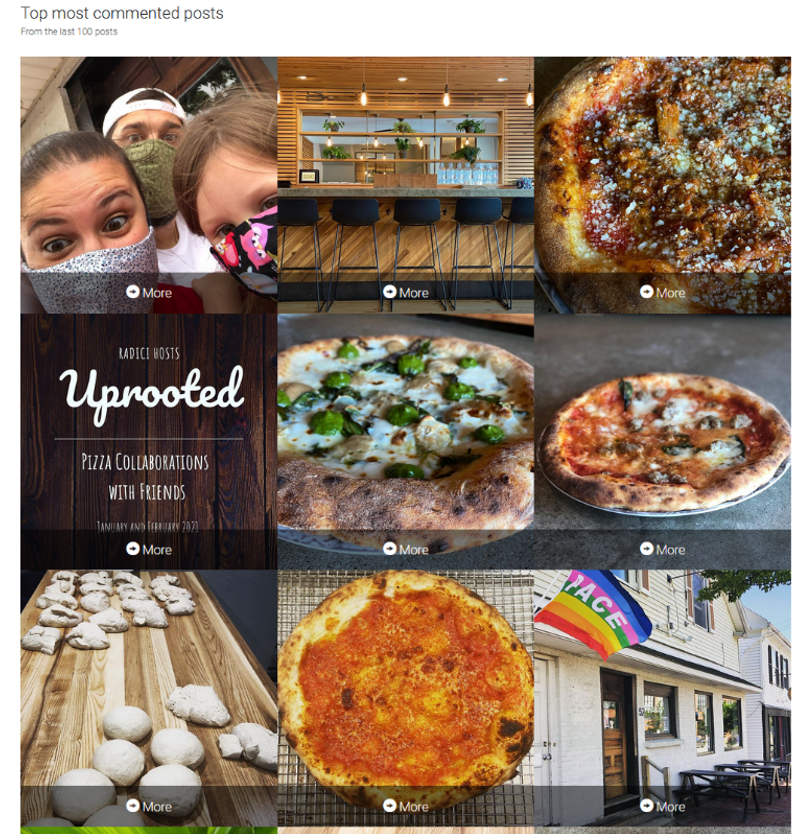 These are some factors that make your Instagram page exciting to your followers:
You are talking about personal and business achievement – opening the second restaurant, showing the proof of previous active and real business. It creates anticipation from future customers because they can go online, search the reviews, mentions and get the real feel of a new place without even tasting food.
You are telling stories of difficulties and struggles in business and setting the expectations right – explaining that there are limited resources – just two people working in the kitchen. Showing appreciation for current and future customers who order not just pizza but also other supplementary items like beverages or desserts. Adding intuitive Call-to-action in your posts – it is implied that your readers should go check options on the website and order extra items.
You are saying that Portland is the right choice for moving food business. Residents of the city appreciate your business and your choice of locations; non-residents add your establishment to a bucket list of places to order from when they are around.
You are announcing exciting collaborations with very popular and loved local businesses – Mr. Tuna, Chaval, Mami, Taverna Khione, Bao Bao. It is a good idea to mention businesses in the caption through @ and also tag them in your post.
You are making ordering more convenient by naming pre-ordering practices and also explaining that online ordering during work hours is available as well.
You are letting know about safe ordering – contactless pick-up. People have less objections for ordering from you.
You are giving a sneak pic of a special present for those who order – "We don't sell these (they're not much to look at) but they're friggin' delicious. ANYWHO- now until Thanksgiving we're including these with the purchase of our 4-pack wine specials (red, white and mixed) available through online ordering." Who doesn't love presents, right?
You are talking about new ways of serving customers – "our outdoor seating will be available on a first come, first served basis. Tables will be thoroughly sanitized between parties. We'll provide the essentials you need to enjoy your pick up of pizza, wine, beer, non-alcoholic beverages and chocolate!"
You are showing your beautiful space from inside and outside and talking about your current business life in a great storytelling fashion.
You are creating a closer connection with your readers by sharing your memories of spending time with family "This pizzeria is undoubtedly a closer rendition to kind of place we grew up eating with our parents, grandparents and great-grandparents than the temples of haute cuisine we grew up working in. And we're happy about that. Oh, and it smells like Italia in here. And we're damn happy about that."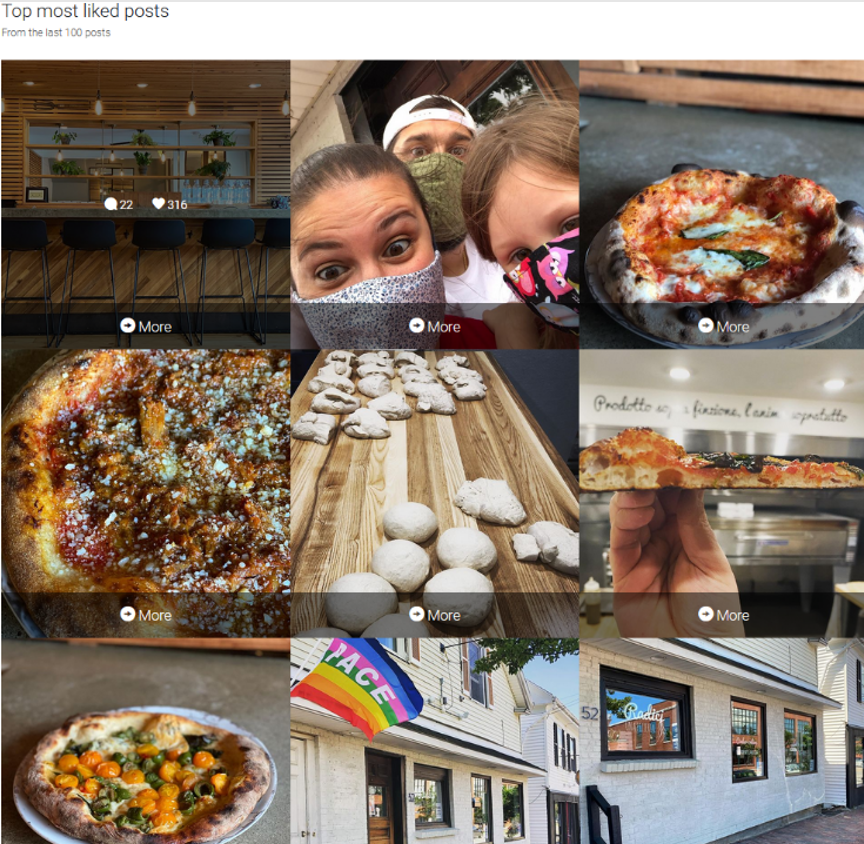 Instagram Basics file has a step-by-step checklist of major mistakes and growth points for any business that is on Instagram, check it out below ⬇️