You've got a great search phrase and information on the bio!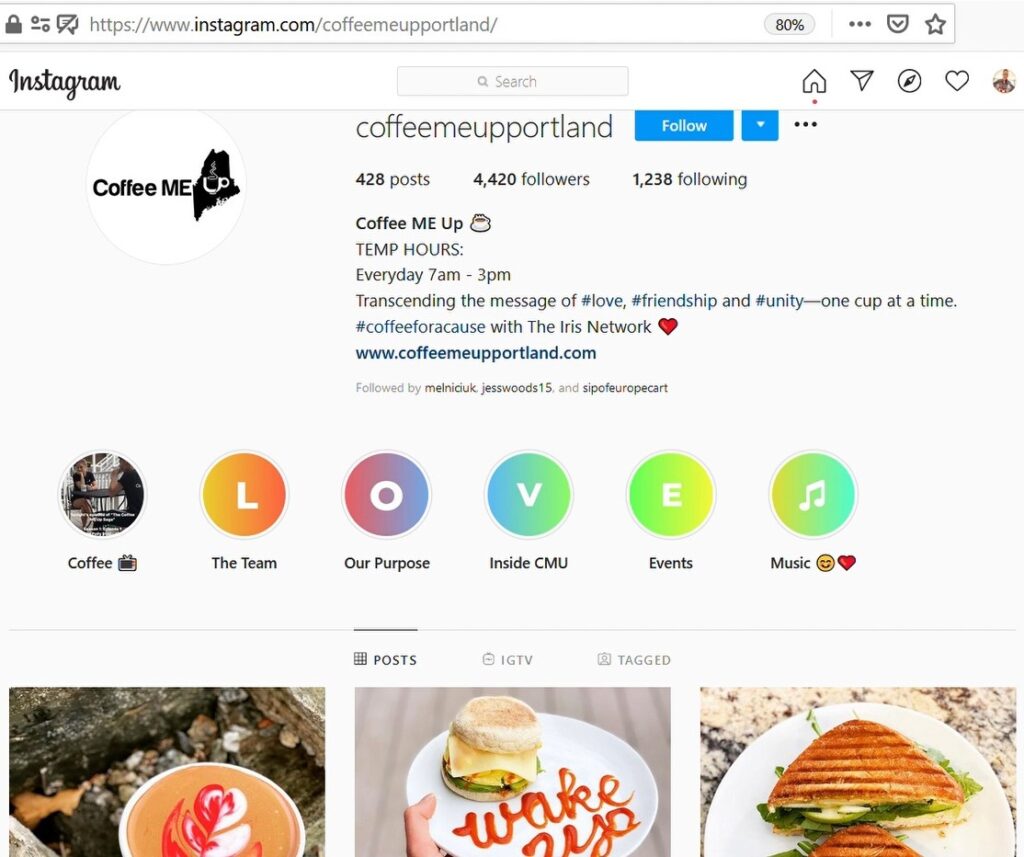 Fantastic business, great pastries, delicious coffee – I am a fan of Turkish coffee and Nitro, yummy smoothies.
Account has on average 2-4 Stories on a daily basis, showing some behind-the-scenes actions, team at work, good and friendly atmosphere. Highlights are nice but could be replaced or updated with more relevant Stories. A great way to enhance the profile will be to add videos of processes, of fun that you are having without customers, of interactions with customers.
Possible additions to highlights:
Bestsellers – show most popular items from your menu, explain the complexity of flavors (which smoothies are sweet, which are balanced, which are bittersweet, etc)
Breakfast – tell more about your oatmeal bowls, smoothie bowls, best sellers among breakfast sandwiches
BTS (behind the scenes) – tell stories about choosing the brands that you use – hot sauce, matcha, organic honey, organic coconut milk. You can show your prep work for the day, layering phyllo dough for baklava, buttering it, covering with delicious nuts; making morning pastry from scratch (scones and other yummies), etc..
Customers' love – pictures and videos made by your customers in which they tagged you and raved about your food and beverages.
Delivery – show the love that goes into every order =)
Drinks – show videos of making delicious cappuccinos, your other beverages – it is very interesting for people not related to cafes and it is visually pleasing to watch!
Our menu – showing your food items from different sides and making it very appealing through showing the process from start to finish, playing with your customers – what should be the next layer be, etc.
Safety / Ordering – talking about and showing safety protocols, the way orders are placed and received from start to finish in a safe and customer-friendly way. You can use your existing post https://www.instagram.com/p/CI3jijos3cu/ as the first Story for that Highlight.
Upgrade "team" highlight – show every member, let them talk about what they love at Coffee Me Up – their favorite meal, drink, hobby, etc. I personally know your staff members and how talented they are!
You have great captions with a lot of wisdom, advice and care about big Coffee Me Up family; descriptive explanations of new items and items on special; very detailed information on how to get orders safely and in a fast and convenient manner.
Your interactions with your followers are perfect and genuine, you are sending love and spreading kindness in the comments under each post.
Hashtags will look better if added to comment section, not to the main post – less distraction for your reader. Also try adding more diverse, location- specific and product-specific.
For any post (excluding REELs) I would not recommend using very popular hashtags (>2 million posts) too often as it will be hard to get traction with thousands of new posts daily. A good range of hashtags is 10-20. Do not use the same hashtag every day unless it is your branded one – any other frequently used hashtag may get your profile shadow banned on Instagram. If profile gets shadow banned, it becomes less visible to your current and potential followers.
Profile is very beautiful and looks professional, all food items are juicy, look very tempting and ready to be consumed.
You have fantastic ratings and reviews all over the internet – it would be a great idea to use quotes from your stellar customers' reviews. You can use printscreens or some visual apps to make collages.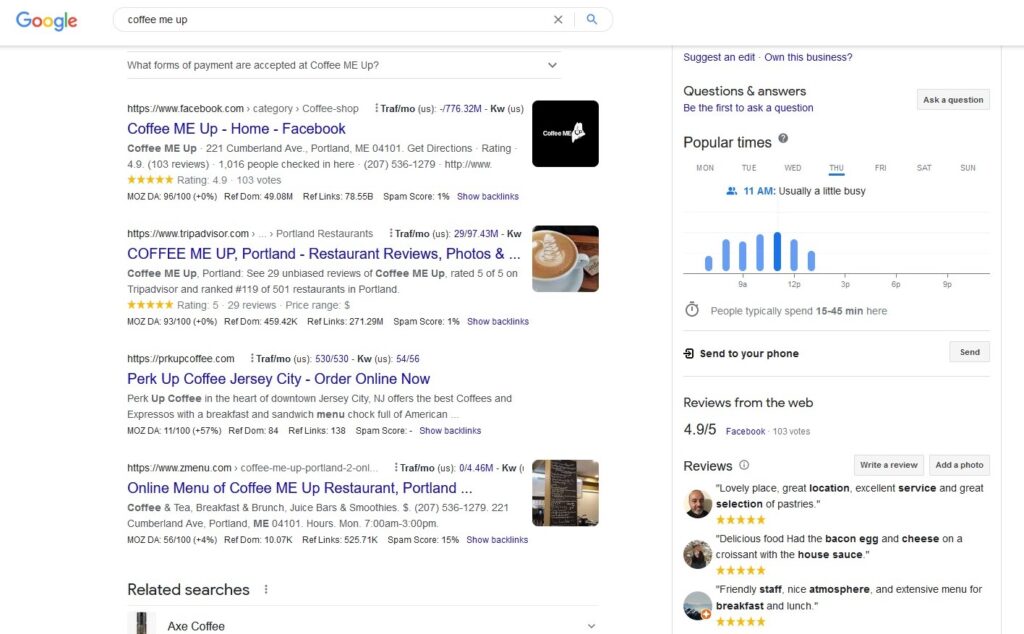 "Don't even get me started on the special spread they use – outstanding. The staff is so incredibly nice, upbeat, and genuine. They clearly take the safety precautions around covid seriously, and that is much appreciated. They really made our day start off on a wonderful note. Next time we're in Portland, this will be the only coffee shop we go to!" – Yelp (you've been keeping a fantastic rating 5* of 5* since your opened, great job, my friends!)
Excerpts from Google reviews:
"Thank you to one of the most well mannered and very respectful staff I have ever encountered. Complete sweethearts in there. The owner should be very proud to have the team they do! Thank you again. It is greatly appreciated. 👍🏽"
"Turkish cheesy borek, and some chocolate croissants to accompany our amazing coffee made the visit that much tastier and memorable!
Staff was very friendly and place looked clean and neat!
Definitely will be back!
Thank you!"
"Generous size and reasonable price for both. Menu was expansive and there are many other items I would have been interested in ordering."
"Breakfast and lunch is excellent. Everything is fresh and delicious."
f you look at my Instagram Basics file, you can see the examples of reviews that are using pictures and videos as well.
These are some factors that make your Instagram page exciting to your followers:
Sharing your personal thoughts, feelings with your followers and wishing everyone to be safe and to stay calm during uncertain times. Sharing mission and values "Coffee Me Up will remain open for as long as we can in order to serve and spread positivity throughout our community during these severe negative times. We want the environment to be safe for you."
Spreading love to your customers and thanking them not only for supporting your business but also other local businesses.
Sharing messages – announcements in 4 different languages – super inclusive!
Setting the mood for future interactions – "Can't wait to see you again! ❤️"
Talking about personal matters, explaining how racial injustice is painful for people who experience it. Inspiring to be better human beings and putting words to action "If you see something, say something if you feel comfortable doing so. Now more than ever we need to stand up for one another and be the difference in the world."
You are bringing a very personable approach to your business – instead of adding just the food-focused pictures, the owners and team members are the stars of the page along with your well-presented menu items.
You are using Juicy description – "We take dark chocolate that's crafted in Belgium, steam milk until it's silky and pull two well calibrated shots to make this a velvet drink worth every sip".
You are being creative with your deals, flavors, color combinations and new ingredients.
You are giving an emphasis of explaining that your offerings are made in-house using organic ingredients, that food is fresh, you are talking about unusual menu items, such as "Spirulina smoothie bowl", describing its health benefits and best flavor combinations.
You are showing a great Care about your customers in terms of creating safety protocols, taking all precautions against the spreading of COVID-19 and also explaining details of your cleaning processes.