You've got Great information on the bio. I would change search phrase from Sticky Sweet to Sticky Sweet Ice Cream or Sticky Sweet Vegan. When business adds information that could potentially be searched on Instagram, it will be shown among the first vegan establishments or ice cream shops due to Instagram algorithms.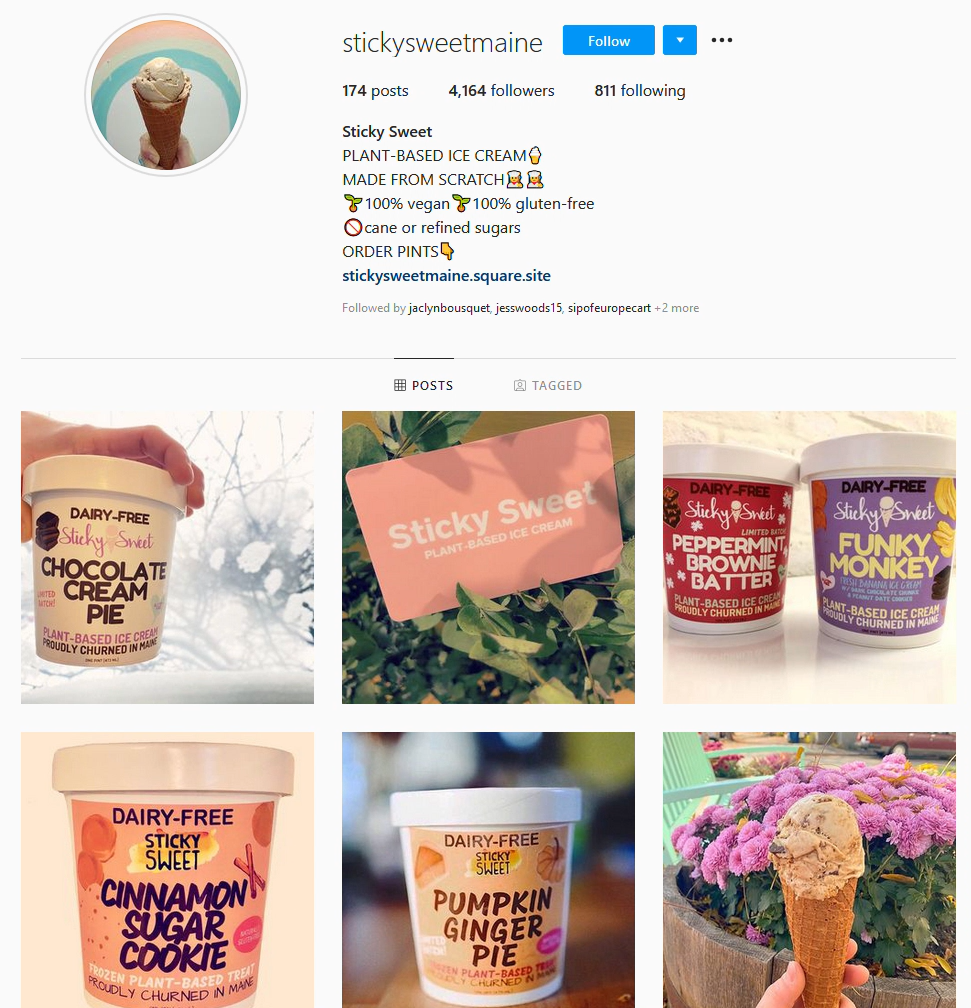 Account has on average 1-3 Stories on a daily basis, no highlights. Account could be enhanced with videos of ice cream making processes, scooping ice cream, brainstorming behind the flavor creation, videos of shelves in the stores that carry your desserts.
Right now there are no highlights on the profile. They act like a table of content for your Instagram page. To make your account more exciting here are the highlights that come to my mind:
@ home/ DIY/ recipes – tips and tricks on how you choose Maple syrup, plant-based milk, peanut butter, cocoa for your house made chocolate chips and brownies. Photo, video, stories will be great. You have so much knowledge about creating vegan deliciousness that you can help your Sticky Sweet friends expand their cooking skills – you can teach others on how to create savory dishes, easy-to-make desserts, tasty sauces, dips, etc.
You can share recipes on making ice cream, waffles, cookies (like those that were used in Gingerbread Woman!), pie crust crumble, brownies, vegan caramel for free if you want to increase the goodwill of your brand and boost your word of mouth OR make paid access fun Zoom educational cooking streams or sell your recipes and helpful tips.
In any way, your reach (people's awareness of your brand) will be much higher with spreading love and knowledge whether you do free Instagram streams or think of special Eventbrite online tickets for the access to your knowledge. Post a small video on your feed and ask your followers if they are interested in learning from you and you will be surprised by the feedback!
About – history, roots of your business, your vision, your mission.
Bestsellers – show most popular flavors from your menu, explain the complexity of flavors (which ice cream is sweet, which is balanced, which is bittersweet, salty, etc)
BTS (behind the scenes) –you can show your prep work for the day, choosing ingredients, making vegan cookies for your ice cream, wrapping fresh gluten free ice cream cones while describing the fresh smell and crunchiness, etc.
Customers' love – pictures and videos made by your customers in which they tagged you and raved about your amazing desserts.
FAQ / Q&A –answering most popular questions about your services, ice cream types, hours of operations, allergy information
Raffle/ Your wishes – you can announce a big raffle where the winner will get to creating a special batch of ice cream based on his/her favorite flavor combinations OR you can bring back flavor from the previous batches ( I am so curious about your PINEAPPLE CHEESECAKE).
Safety / Ordering – talking about and showing safety protocols, the way orders are placed and received from start to finish in a safe and customer-friendly way.
Where is my 🍦/ Where to find – you can mention places that carry your amazing ice cream: cities that have it, shops, markets.
Your reviews are amazing and you should definitely think about highlighting it on your Instagram profile. Review from my friend, Yelp Community Manager Steff says it all "Their website says "The best plant based ice cream you've ever tasted." But I think they could just say "the best ice cream you've ever tasted," because this stuff is perfection. It's 100% vegan and 100% gluten-free, made from scratch, made with love, served with a smile and an authentic love of the community. I'm immediately obsessed.

It's the creamiest ice cream I've ever had.
It's the most flavorful ice cream I've ever had.
It's the most chunky-with-ingredients ice cream I've ever had."
I see that you are using a good amount of hashtags and that is great! However, they will look better if added to comment section, not to the main post – less distraction for your reader. Also try adding more diverse (not only the repeating ones), location- specific and product-specific.
For any post (excluding REELs) I would not recommend using very popular hashtags (>2 million posts) too often as it will be hard to get traction with thousands of new posts daily. A good range of hashtags is 10-20. Do not use the same hashtag every day unless it is your branded one – any other frequently used hashtag may get your profile shadow banned on Instagram. If profile gets shadow banned, it becomes less visible to your current and potential followers.
Your feed is bright, lovely and very appealing, screen-licking, I would say.
I personally love your business, your flavors, your positive approach to life in general.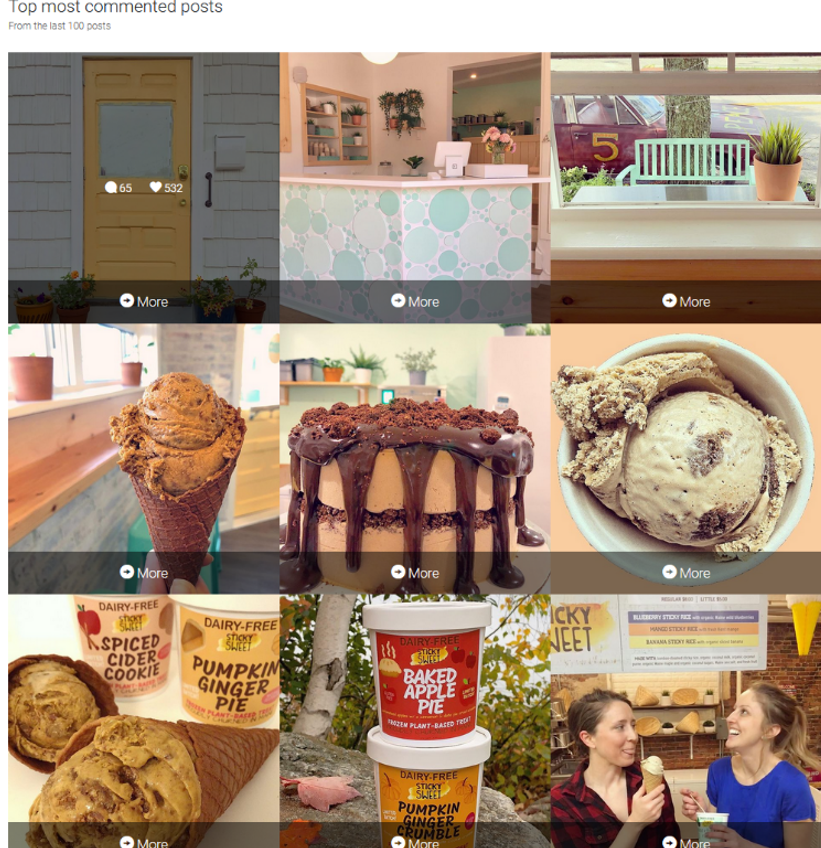 Below you can see some factors that make your Instagram page interesting and converting into sales from your followers who come to the store:
You are supporting different non-profit organizations and charities with your kindness, money and out-of-the box thinking:

You are creating an awesome raffle to raise money for local MEALS ON WHEELS program and participation costs just 5$. The words you are using are very uplifting, kind and inviting "Not only will you be helping us to support some of our most vulnerable and negatively impacted neighbors right now, but you'll also be entered to win one of our delicious ice cream cakes, made from scratch and made with love💛";

You are discussing Social injustice and donating your profits to the relevant organizations ("We'll be donating 100% of our profits from tomorrow's soft window opening to @blmportlandme 🖤").

You are explaining your safety procedures and protocols, the way orders are placed and received from start to finish in a safe and customer-friendly way.
You are using very appetizing and descriptive way to characterize your product – "Pure buttery vanilla deliciousness loaded w/ pieces of our housemade pecan date praline- one of our most popular flavors ever🍦", "We slow-cooked coconut sugar in rich coconut milk, then blended it w/ roasted sunflower seeds & sea salt🍦"
You are open to giving a little bit of extra love to your customers, even in the form of free scoops of your delicious ice cream.
You are reminding about your offerings that not everyone can remember about – fresh gluten-free waffle cones.
You are actively using Calls-to-action "Come grab a scoop of our freshly churned PUMPKIN GINGER PIE this weekend🍦"
You are being creative in flavors and creating seasonal fantastic desserts. People understand that each ice cream is limited in quantities and is only sold during short periods of time so they rush in to buy their pints!
You are letting your customers know where to find pre-packaged pints and you are tagging your vendors to make it easier for people to see the websites, locations, hours and ambience of those places.
You are sharing your milestones, you are showing your personal presence behind the brand.
You are being sweet and kind to your customers and supporters – "We are so incredibly grateful for each and every one of you! Your support means the absolute world to us! THANK YOU THANK THANK YOU! 🙏🙏🙏", "We are forever grateful to every single person who backed our campaign, shared our posts, and sent us good vibes!✨ We could not have done it without all of you! We love you all so much, and we cannot wait to make you more treats!🍦🌈✨🍨💛"
You are being inclusive to all your customers –you extend your offerings to fit customers with special allergies – "🌻We created our newest flavor in honor of one of our Kickstarter backers who is allergic to cashews- that's how much we love our supporters!", "It's #cashewfree , #peanutfree , super creamy & totally decadent🍦"
You are promoting other women-led businesses "✨Want to have your inner beauty captured by a magical goddess??!!✨ Portland-based photographer @savannahdaras is known for bringing dreams to life through her work, and she has generously offered up some mini photography sessions on our Kickstarter page (link in profile👆)!"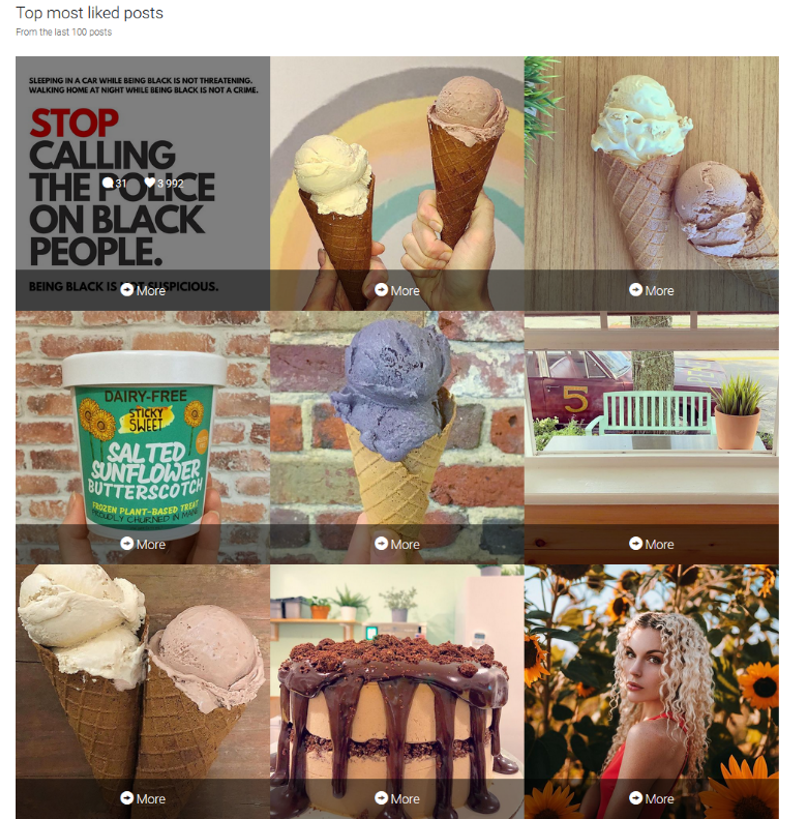 Instagram Basics file has a step-by-step checklist of major mistakes and growth points for any business that is on Instagram, check it out below ⬇️