You have a great bio, I would change search phrase from Terlingua to Terlingua Barbecue or Terlingua BBQ. When business adds information that could potentially be searched on Instagram, it will be shown among the first barbecue places due to Instagram algorithms.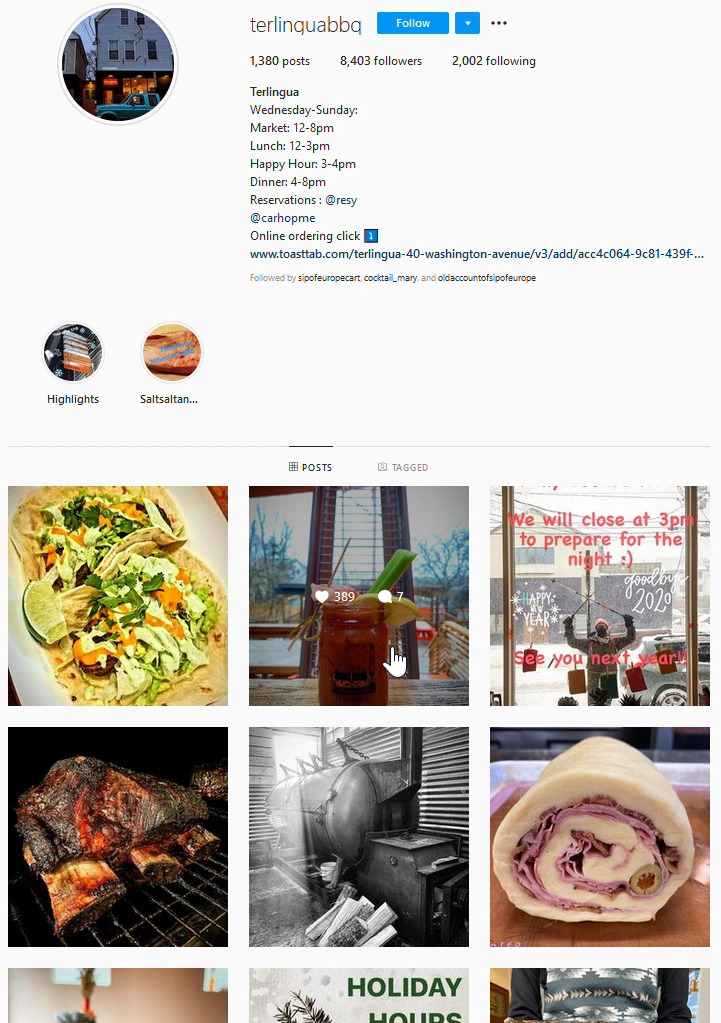 Account has on average 3-5 Stories on a daily basis. It could be enhanced with videos of processes, time lapses of you and your employees getting ready for the day, making food; engaging with your audience through Stories, video posts, IGTV.
There are currently two highlights on the profile. Highlights act like a table of content for your Instagram page. Here is a list of Possible extra highlights:
At home / @ home – your examples of possible ways of enjoying prepackaged delicious food like food briskets, house smoked pork belly, ribs – make videos of plating them at home, choosing sides that will enhance flavors, showing recipes and techniques for soups. Generate interest from your followers by showing pictures and videos from your customers enjoying their homemade dinners.
Best sellers – name customers' favorite food items from your Shop! Give your point of view on their popularity.
BTS (behind the scenes) / Process/ How we make it – you can show your prep work for the day, choosing ingredients, making sauces, pickling your vegetables, etc
Collabs – you can mention places that you already collaborate with, your favorite cocktail bars, businesses that you personally order from or whose items you sell at your market.
Desserts – pictures, videos of your currently available desserts if you have any.
Drinks – you can tell about non-alcoholic & alcoholic beverages, about the characteristics of wine.
FAQ / Q&A – answer questions from your curious customers, for example, what wood is used for smoker, how long does it take to smoke the meats, what is the style of barbecue
Happy hour / Specials / Deals – if there is any upgrade for ordering during slow hours or any special price for food or drinks, let your customers know and keep reminding them.
Market features – here you can repost all the collaborations you are having through Terlingua Market series and make exciting announcements.
Pairings – what wine or cocktails would you recommend to pair with your meals and ingredients from your market.
Press / mentioned / featured / reviews – showcase reviews from your customers, captured in Stories, make print screens of nice words on Yelp, Facebook, Google. Let people know that you care about their opinion and that their reviews make your business grow and survive.
Recipes – let customers know how to enhance the food from your Market.
Tag us / Fan grams / Friends / Fans- pictures and videos made by your customers in which they tagged you and raved about your food and beverages.
Great captions with descriptive explanations of new items and items on special; very detailed information on how to get orders safely and in a fast and convenient manner.
Hashtags will look better if added to comment section, not to the main post – less distraction for your reader. Also they could be more diverse, location- specific and product-specific.
Profile is very beautiful and looks professional, all food items are juicy, look very tempting and ready to be consumed. Love for your team and your customers is very visible and very mutual.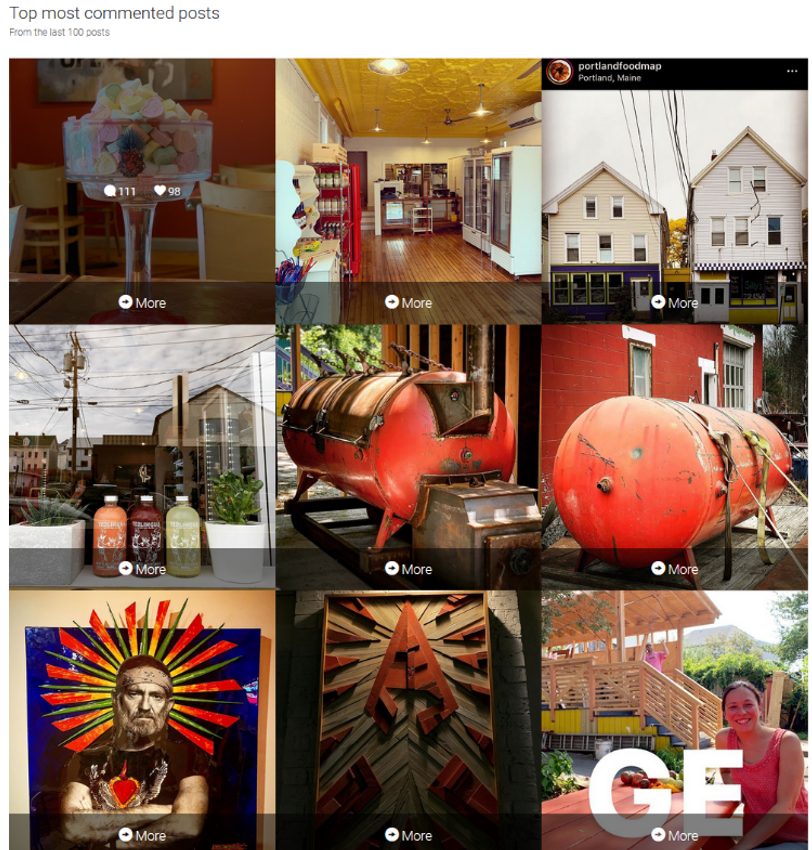 Your highlights:
You are very open to collaborations: partnering with other well-known loved businesses to bring desserts to your menu, announcing it in a very playful and selling way "You'll also notice we have two decadent holiday cakes available for pre-order also baked by @ilmalopez of @chavalmaine"; offering Terlingua Market series – "Every other Tuesday through April, we are partnering with a different local restaurant to see what deliciousness they can create using Terlingua smoked meats! Hosting our first pop up Tuesday 1/26 is Highroller! Their meat: Smoked brisket!"
You are Bringing announcements in an exciting way – "Stay tuned for more info as we reveal who's on deck!"
You are using Call-to-action – "Order online or call 207-956-7573 OR dine on our heated back deck!!", "AVAILABLE NOW- CLICK THE LINK to our website & use the Order Take Out Now feature. Once directed, go to the NYE BBQ BOARD & BUBBLES Menu.", "Visit our website and click the "Oder take out now" button to secure yours!"
You are using triggers such as time restrictions and limited qualities – "Limited quantities and not to be missed!", "We will have a limited amount available for pick-up"
You are offering special deals – "Terlingua Bloody is back! 7$ weekends only."
You are taking special care about your current customers – "A team member will contact you within 24-hours to confirm your order & schedule a pickup time on the 31st:)"
You are describing your offerings in detail and thinking about your customers' convenience in creating a great experience at home "Whole Briskets available in our market! Easy reheating instructions. Chop off a hunk of brisket for dinner tonight reheat with your favorite sides! Chop up the remaining for a soup or stew! So many options. Also works great for freezing."
You are having great interactions with your customers:

offering to create a name for a smoker- 'Exciting things to come in 2020! Let the smoker build begin! Also, she's gonna need a name…….'

you are playing with your customer, promising a reward for guessing game and creating your own viral moment by asking your fans to share your post with their friends "How many hearts?! Make a guess and tag a friend the closest guess without going over wins!!! PRIZE: $25 gift certificate to be redeemed for breakfast or lunch

What is super smart about your offer is that you are not offering money directly, you are offering a coupon for future purchases. It means a win-win for you and the customer since he can only benefit from coming in and trying your food. Normally, this amount covers the main dish which is great but it also allows to have a one drink or an appetizer and pay that little bit of extra for the whole experience. As data and actual experience shows, in this case people get more expensive meals or choose a variety of different dishes which allows them to try more items and have an opinion about it. People always appreciate the opportunity for winning something, they are likely to be excited and talking about you since the moment they won to a few weeks after their experience.
You are asking to tag the future vendors based on ideas and desires of your current followers and customers which is super cool – it enhances your engagement on Instagram, businesses that are getting tagged are more likely to connect with you and offer amazing new deals. "TAG any local vendors you'd like to see on our shelves!"
You are sharing your steps and achievements and talking about your plans.
You are sharing your gratitude for those people that are talking about you in the press and on social media, your followers know that if the mention you, they will be seen and appreciated.
You are talking about your team as a family and you are sharing / spreading love to your customers through your captions and pictures.
You are talking about safety a lot. "Safety remains our #1 focus. We work tirelessly to ensure that our Team is coming into a safe workplace and this directly translates to a market & outdoor dining experience that mirrors these essential procedures & protocols diligently put into place and enforced."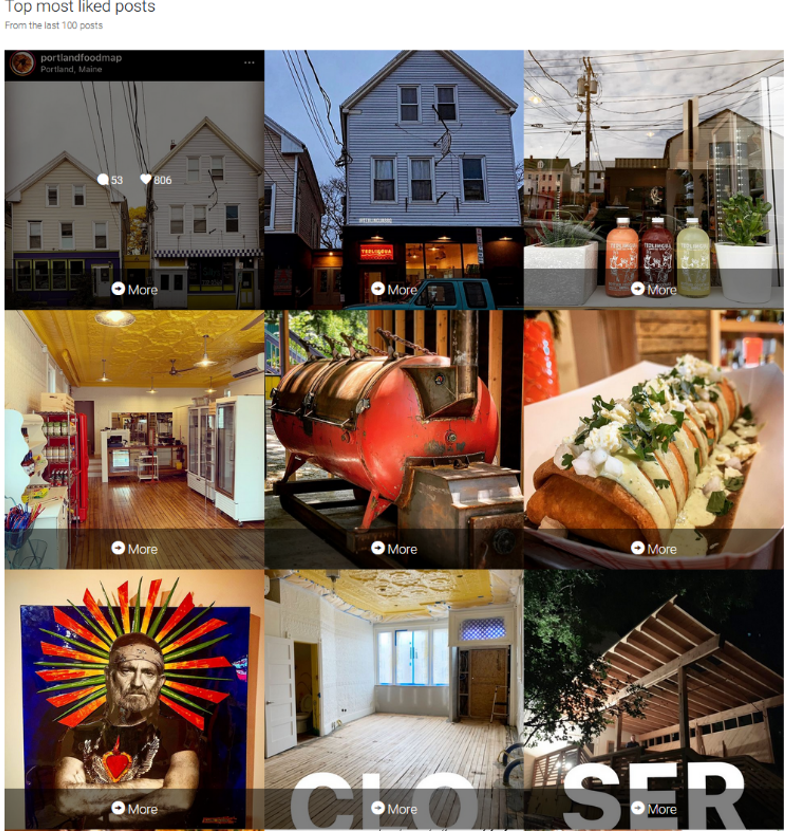 Instagram Basics file has a step-by-step checklist of major mistakes and growth points for any business that is on Instagram, check it out below ⬇️