Your bio is great and informative, and it works well with attached link that brings curious potential customers to your website as well as well-created Highlights. If I had such an awesome page, I would change search phrase from Mama Mo's to Mama Mo's Soups & Meals or Soups & Meals, Comfort Food. This way your page will be organically shown to those people who are looking for comfort food, soups, ready-to-eat meals and may not know that your brand exists.
When you are searched for by your brand's name, you will be found, but if people are looking for an awesome local business and they see you due to Instagram algorithms, you get new followers who convert into customers or brand ambassadors in an effortless organic way.
Highlights act like a table of content for your Instagram page and you've done a great job with them! Possible additional highlights or updates to existing highlights:
@ home/ DIY/ recipes / 30 min meals / Slow cooker – you have so much knowledge about creating comfort food deliciousness that you can help your Mama Mo's friends expand their cooking skills – you can teach others on how to create savory dishes, easy-to-make desserts, tasty sauces, dips, salads, etc. Give an incentive to tag you and boost your word-of-mouth.
Best sellers – name customers' favorite meals from your business! Give your point of view on their popularity. Show most popular flavors from your menu, explain the complexity of flavors (sweet, creamy, meaty, thin, thick, rich in flavor, nutritious, hearty, spicy)
BTS (behind the scenes) / Process/ How we make it / Time-lapsed – you can show your prep work for the day, choosing ingredients and transforming them, creating new flavor combinations. Share videos of processes, time lapses of you getting ready for the day, coming up with new soups.
Cooking tips/ kitchen tips / – if you feel like there are recipes or hacks you can share with your followers, share them and give an incentive to tag you and boost your word-of-mouth.
Customer dishes– if you are getting tagged by customers who made beautiful food creations following your directions, thank them and repost their photos and videos!
FAQ, Q&A – answering most popular questions about dishes, about your business, hours of operations, about your techniques, allergy information.
Flavors, ingredients – show what is going into your soups.
Grocery shopping 🛒– give your professional opinion on the offerings that people can find in grocery chains and local stores. You can actually compare ingredient lists of ready-to-consume soups to yours.
Soup of the day/ week – tell stories about specific soup or meal, give an incentive to buy it – special discount, BOGO offer, free tasting set, etc.
Specials / special requests – any customized versions of soups
Tutorials / Online courses / IG Live Series/ Virtual classes / Workshops / Cooking Classes – explain how to make a perfect soup or meal, how to balance the flavors, how to pair it with wine.
Your ❤️ / shoutouts / reposts / Feedback / Kind words / Reviews – if you have any raving reviews for your meals and soups, add them to your Highlights.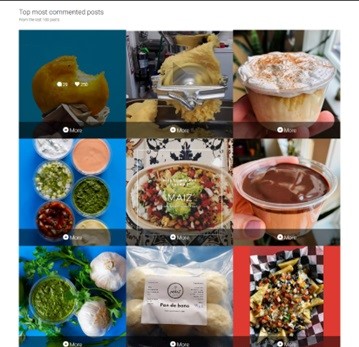 Here are my ideas on why your posts are so loved and your business is in such a high demand:
You are using and showing great use of local ingredients and suppliers. Spreading love to your customers and thanking them not only for supporting your business but also other local businesses including farmers and providers. "Here's how ordering from Mama Mo's supports more than just our business! We source as many local products as we can, while still trying to keep our pricing accessible. So when you place an order, you're not only supporting Mama Mo, you're supporting @goransonfarm , @twofarmersfarm , @northsporemushrooms ,
@middleintervalefarm_maine , @nativemaineproduce , @greenthumbfarmsspuds , and more!!"
You are supporting different non-profit organizations and charities with your kindness, money and out-of-the box thinking and allowing your daughter to participate as well! "So grateful for – and proud to be associated with – these two amazing non-profits that are helping local food businesses provide nourishment for our most vulnerable neighbors!"
You are Sharing your personal thoughts, feelings with your followers, you are asking their opinion, you are showing your personal presence behind the brand.
I love your message "A message from Mama Mo (aka Monique Barrett, owner and head soupstress of Mama Mo's): I'd like to start with a huge THANK YOU to everyone who ordered and supported this business this past week. Right now, lots of things feel uncertain, but we still need to eat, and I am honored that you trust me to feed you. There are two (maybe three) things in this life that I am super confident in my abilities to do: Providing comfort is one and cooking is another (I'm also a pretty stellar whistler, but that's not particularly relevant to this conversation). As long as it is safe to do so, I will keep cooking and delivering food – taking great care to continue stringently following safety and cleanliness guidelines – and we'll continue offering soups to warm you up and get us through this tricky time. I'll also be trying out a few new items on the menu this week. Comfort foods like: shepherds pie, meatloaf, mashed potatoes, etc. What foods brings you comfort? We'd love to hear about some of your favorites! Thanks again for all your support, and keep an eye out for our expanded menu. Much love, Mama Mo"
You are making announcements about special hours that you add for your customers' convenience and provide special offerings.
You are showing the scale of your operations by creating a nice display of available meals, by documenting a huge amount of ready-to-eat food. People get the idea that your business is successful, loved and in demand and they want to experience your food and hospitality for themselves.
You are using great pictures that represent deliciousness of your soups: they show the final look of the meal and ingredients that it is made with.
You are cross-promoting other local business and charities and that creates goodwill for you and them! By mentioning your suppliers, partners, distributors and tagging them in your posts you are allowing your audience to check those businesses for themselves. Here is an awesome example "LOOK how beautiful these rainbow carrots from @twofarmersfarm are!! 😍😍 We're cooking them up with some @commonwealthpoultry roasted chicken and @smilinghill farm buttermilk biscuits for this week's @c4cmaine meals. We'll have a few available to order through our website later this week too, with a percentage of their sale going right back to Cooking for Community!"
Fun way of showing off the dishes – a picture with your cat in front of opened notebook, that is genius!
You are showing the process of assembling delicious food. With your pictures you are giving an insight to the amount of love, care and time that go into each order.
You are being inclusive to all your customers –you extend your offerings to fit customers with special food preferences such as vegetarian and vegan.
You are fast to answer any questions and requests, for instance, "@chocolatspassion – Absolutely! Planning to continue our original 8 soups (for folks who like soup year round) and offer a weekly salad, soup, meal, and sweet special. The majority will be vegan and vegetarian. :)"
You are devoting your time and skillset to unpaid work that will bring happiness to so many local families!
"We're all in this together, friends. Keep taking care of each other however you can! ❤️❤️❤️ So, not only are Pearl and Patty an AMAZING delivery team, they're also incredibly creative and able to stretch a dollar like nobody's business! When I gave them some money from the love fund and asked if they could throw together some Easter baskets for folks who might need them this Sunday, they went ahead and chipped in some of their own money too and made EIGHTEEN BASKETS (intended for kids aged 8 and under) that are available for free! Please PM if you have a little person in your life who would like to wake up to one of these on Sunday! Available for pick up in Portland. And THANK YOU Pearl and Patty for being the most awesome delivery duo ever!!"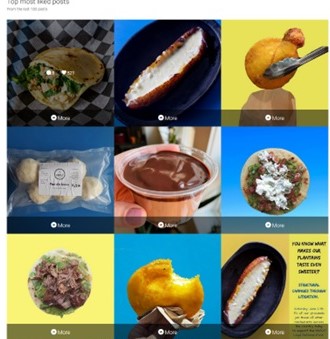 Instagram Basics file has a step-by-step checklist of major mistakes and growth points for any business that is on Instagram, check it out below ⬇️