You have a great bio, and a great search phrase. Even though you are not selling through DMs, you can bring new higher traffic to your website.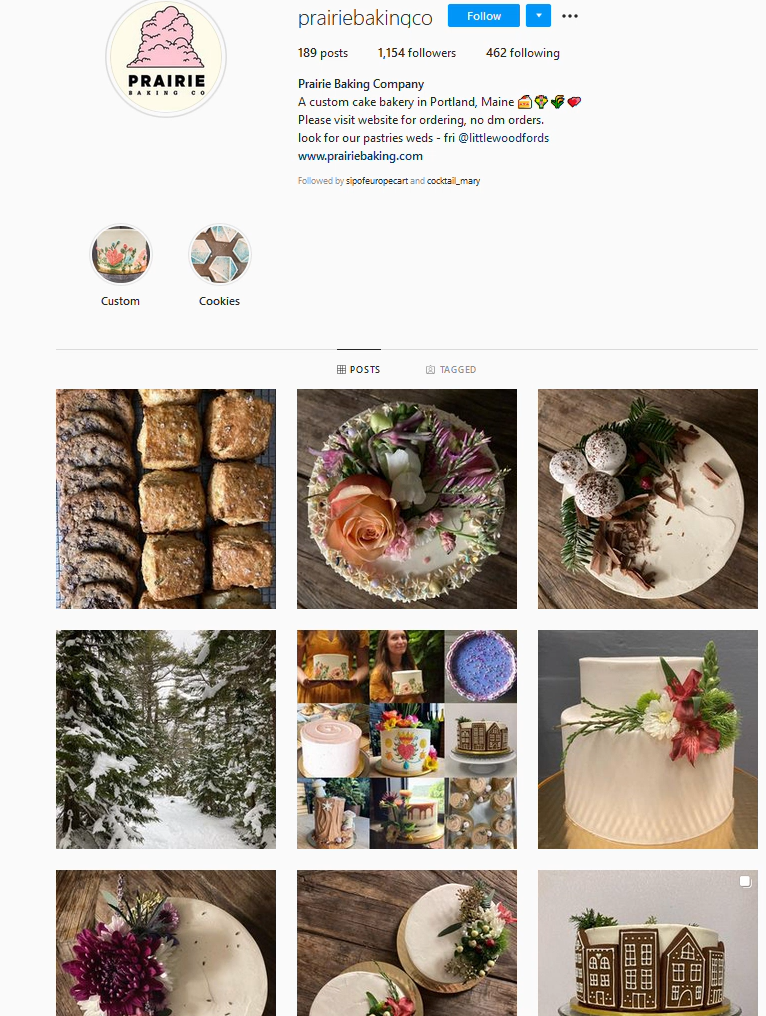 As far as I've seen, your account has on average up to 4-6 Stories on a daily basis and two nice Highlights.
Below I am listing extra Possible highlights:
Best sellers – name customers' most popular flavors! Give your point of view on their popularity.
BTS (behind the scenes) / Process/ How we make it / Backstage – tell stories about choosing the brands that you use – cream, chocolate, berries, flower salons, etc. You can show your prep work for the day, baking cake, whipping up the cream, layering it, making caramel; making morning pastry from scratch (scones, cookies and other yummies), etc. Time lapses are a perfect way to show how much time, actions and love go into each dessert.
____(Drip / Flower) cakes – show a perfect line up of drip or flower cakes that you've already made.
FAQ, Q&A – make pictures or videos with your answers to questions listed on your website: Do you deliver?, What kind of frosting do you use?, Do you do tastings?, Can you do fondant covered cakes?, How far in advance do I need to order my cake?
Feedback / Kind words / Reviews – if you have any raving reviews for your desserts, add them to your pictures, videos, captions under posts.
Flavors / Slices – the inner world of your pretty cakes with juicy descriptions, slow-motions of making yuzu-lemon curd and berry sauce or berry buttercream, etc
For ___ (kids, weddings, b-days) – make a set of themed cakes
Ideas / Inspirations – repost cakes from profiles of inspirational bakers that are you able to make.
Kitchen tips – if you feel like there are recipes or hacks you can share with your followers, share them and give an incentive to tag you and boost your word-of-mouth.
Orders – showing line up of your beautiful cakes, desserts to prove the demand of your offerings and making people aware that you can make amazing treats in scale.
Piping / decorating – videos with your beautiful embroidery techniques in slow-motion or time lapse.
You are using great set of hashtags, they look better if added to comment section, not to the main post – less distraction for your reader. Also they could be more location- specific and product-specific.
Very popular hashtags (>1m) such as #cakedecorating, #cakesofinstagram, #instacake, #buttercream, #cakedesign, #cakedecorator – should be rotated in different posts and not used together. Frequently used hashtags may get your profile shadowbanned on Instagram. If profile gets shadowbanned, it becomes less visible to your current and potential followers.
You have a very visual and mouth-watering profile with a well-balanced color, fantastic job! It could be enhanced by videos of baking processes, your storytelling and showing desserts from all angles; engaging with your followers on your page.
You also have a super follower interaction which is visible and appreciated by your subscribers and customers.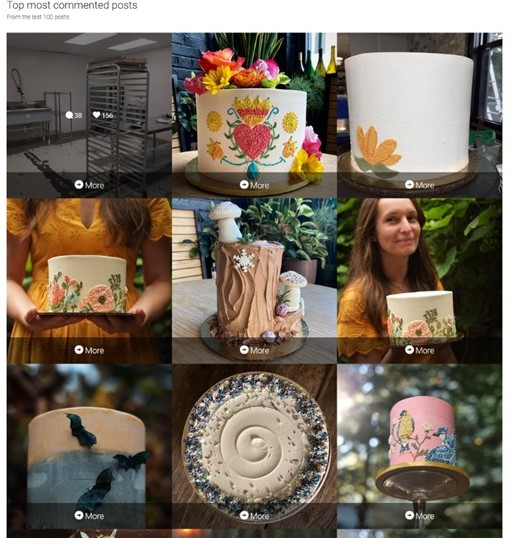 These are some factors that make your Instagram page exciting to your followers:
You are talking about personal and business achievements (subleasing production space and scaling up your business), growth factors (like learning new techniques), sharing milestones and steps you are taking in your business journey.
You are being grateful for those people who help you along the way and who order from you. Also you are very kind to mention person who inspired you to upgrade your cake decorating technique ("thanks @sweetheatheranne for the awesome webinar tutorial on piped embroidery technique!"). Since course creator is a blogger with a huge amount of subscribers, your tag in the post allows her to see your results of work and that normally leads to getting a "like" and/or a comment which helps your post to rank higher = you are seen by a bigger amount of people, your potential customers.
You are giving credit for love, support and photography to your husband which is very nice and sweet! "When starting my own cake business, I wouldn't necessarily have thought that I'd be dressing up to hold cakes all the time. Thanks to my husband, Christian, for always helping me shake off my awkwardness. He has been instrumental in making Prairie Baking Co.'s cakes look as beautiful and professional as they can. Translating all the hard work and time into a photograph isn't easy and he nails it every time! 💕📷🔮✨Photo by @seitan_corndog"
You are letting your personality shine through your pictures and stories. You are also being honest and vulnerable in front of your customers ("Cheers to exciting (and a little scary) new steps in business ownership! 🚚👩‍🍳🍰✨")
You are using very appetizing and descriptive way to characterize your product and bringing the right emotions from those who see your creations –
"Brightening up your morning with this Mexican embroidery inspired birthday cake! Hopefully this vanilla cake with raspberry curd and vanilla buttercream helped ease the disappointment of some cancelled birthday travel plans ✈️💖🌞🏝🌺",
"a 6 inch pumpkin, chocolate ganache and brown butter buttercream cake dressed up in a spooky design with handmade, edible wafer paper bats or decorate-your-own Halloween cookie kits!",
"Autumnal colors on this chocolate salted caramel drip cake.",
"❄️⭐️♥️✨ vanilla sponge with espresso syrup and mocha buttercream, decorated with candied cranberries, meringue mushrooms and sugared rosemary branches"
You are showing the exciting and colorful backstage that brings awareness of beauty of your product and the amount of hard work and creativity that go into creating cakes from scratch (as an example – carousel of pictures and a video of decorated cake). If I was choosing the image for your feed, I would consider placing your video on the first slide and picking the brightest moment out for the video cover– statistically, people are more drawn to watching videos rather than checking all pictures in an image carousel and in comparison to static images, dynamic images are more eye-catching.
By telling a Story about Creating treats to share with your family and your neighbors for the 4th of July you are creating a closer connection with your readers. Not only you are creating an understanding that you are a kind and generous person, you are also showcasing your skills and talent.
You are using two emotional triggers that convert into sales: personal connection to Christmas through storytelling and letting customers know that the supply is limited. Very smooth way to sell your Baby Buche cakes =)
You are working in different price segments, offering not only fancy cakes but also delicious affordable desserts ("small version of our Buche de Noel that is perfect for 2 – 4 people to share for $22!")
You are cross-promoting another local business and that creates goodwill for you and them! By mentioning that a specific business made an order and tagging them you are allowing your audience to check that business for themselves ("I wanted to share this sweet little bird cake that I did for @littlewoodfords owner Andrew's birthday a couple months ago, again because I love the way it turned out!"). The way you encourage your customers to support business with whom you partner is very sweet and on point ("these cuties will be at @littlewoodfords , that way you can get yourself a coffee and some extra Christmas cheer from our friends!")!
Just like you did in example above, your calls-to-action are very strong, they come in a very natural and friendly way and it motivates people to take actions (for example, "Take a look at the Halloween pre-order shop on prairiebaking.com! Pick up will be Friday and Saturday (10/30 & 10/31) 9 am until noon! (Feel free to email me if you desperately need anything on a different day/time)").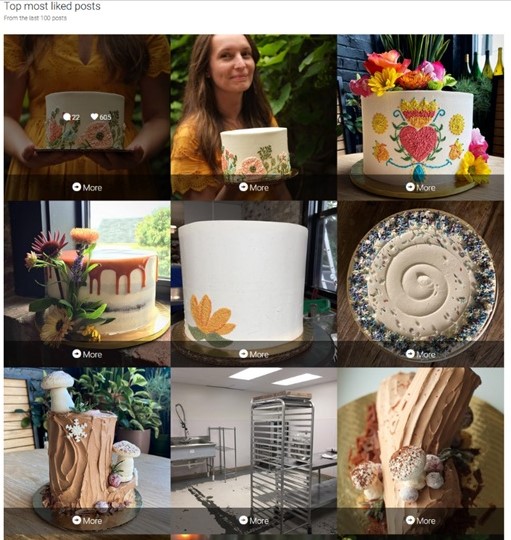 Instagram Basics file has a step-by-step checklist of major mistakes and growth points for any business that is on Instagram, check it out below ⬇️