Your bio is great and informative, and it works well with attached link that brings curious potential customers to your website as well as well-created Highlights. If I had such an awesome page, I would change search phrase from The Gathering Board | Maine to Cheese and Charcuterie, Maine. This way your page will be organically shown to those people who are looking for cheese, cheese boards, charcuterie and may not know that your brand exists.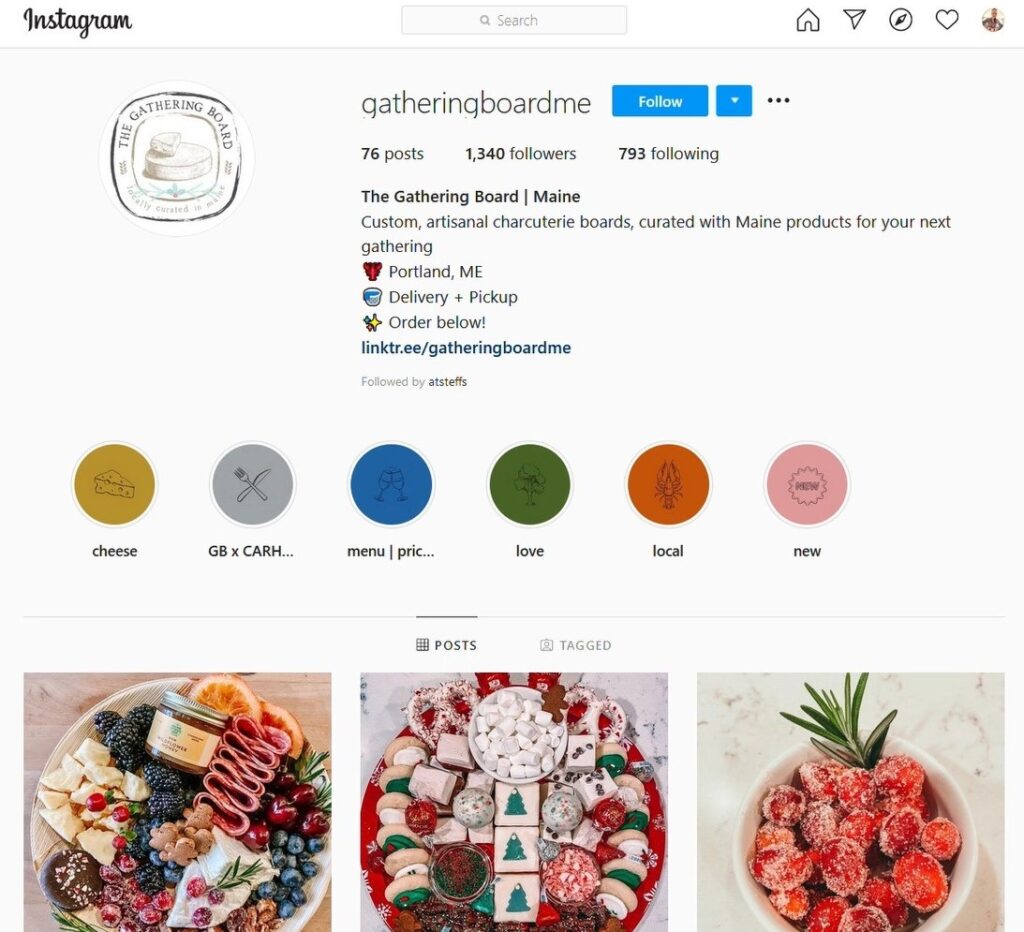 When you are searched for, you will be found, but if people are looking for an awesome local business and they see you due to Instagram algorithms, you get new followers who convert into customers or brand ambassadors in an effortless organic way.
Highlights act like a table of content for your Instagram page and you've done a great job with them! I love that you are showing the full path of a potential customer in your GB+ Carhop set of Stories! Possible additional highlights:
Board videos / How-to / Fast pace – It is statistically proven, that videos are more appealing to people than static images. As far as I understand, you are sharing your know-how through online tutorials (collaboration with Yelp, Maine Cheese Guild – "get all the tips and tricks for building a fabulous board featuring all Maine cheese"), it will be a success if you record it and make fast-motion videos. You can actually sell pre-recorded videos if they are full of valuable information, give the access to them in exchange for emails or show videos on your profile and be super useful for your current followers. If you do not want to expose tips, tricks and secret techniques, you can get make videos this way (Example). *Current time – I saw your recent videos and I loved them!
Cheese on the budget – give advice on must-try cheese types that do not cost a fortune to purchase.
Customized – show the thought process behind creating customizable boards if you get special requests from your customers on a regular basis. That will educate your followers on choosing items that complement each other: cheese, jams, cured meats, appetizers like olives and capers, wine.
Date night – what desserts and wines pair with your boards.
Favorite vendors / collabs / favz/ businesses – talk about "must try" eateries or partners that you love.
Grocery shopping 🛒– give your professional opinion on the offerings that people can find in grocery chains and local stores.
Italy, France, USA, etc – if there is enough demand for this, make different boards with different types of ingredients that represent different countries.
Q&A – how do you come up with your platter designs? Do you have a favorite board set (e.g. favorite spreads, jams, very specific cheese, charcuterie, etc). How does one understand which cheese types will work great together? Which board is your favorite? Why?
Recipes/ at home – share information about your favorite salads, desserts, etc with your audience.
Tutorials / Online courses / IG Live Series/ Virtual classes / Workshops – explain how to fold salami into rose; how to choose proper crackers/ bread/ jam/ spread/ fruit/berries for a cheese that you love, etc; how to balance the flavors, how to find the best wine for a board
🧀&🍷 – your recommendations on how to pair wine or other drinks with your beautiful boards. When you collaborate with a winery or wine shop, check with them if you can provide special Promo codes for some non-essential extras, like shelf-stable desserts or wine accessories.
I think if you create a guide, it will be a great addition to your page! You can use the following topics: local picks/ support local; tutorials; designs; Maine picks, favorite businesses. It is easy to make – check Highlight of my Instagram page called "Insta Growth".
Your follower interaction is perfect – you are answering followers' questions, making sure that they know exactly what you offer and what is possible.
It is smart and efficient for you to tag different locations in your posts. It helps potential customers see your posts when they are searching for delicious cheese & cold cuts and combinations of those.
You have a great range of hashtags! Currently they are placed in the captions area of your posts; they will look better if added to comment section, not to the main post – less distraction for your reader.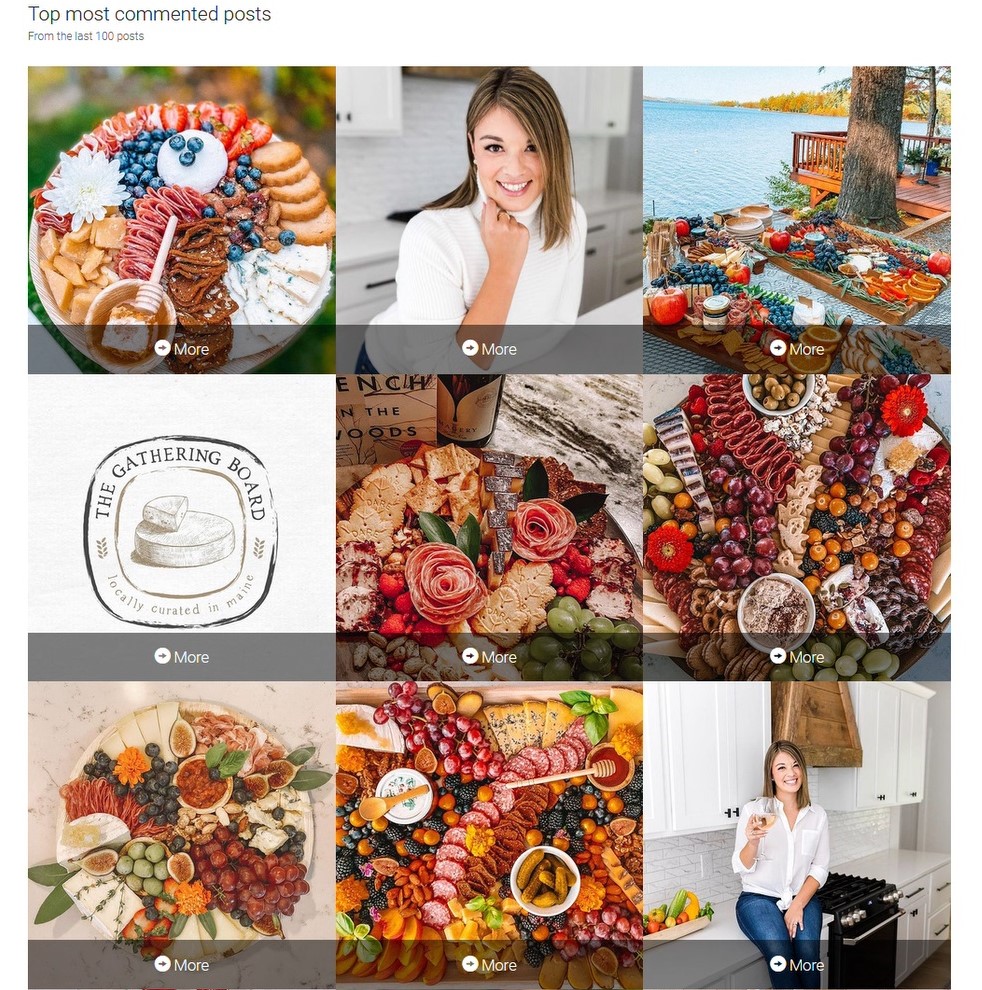 Here are my ideas on why your posts are so loved and well-commented:
You are letting your personality shine through your pictures and storytelling.
You have a great style of photography; your feed is elegant and pleasant to look at.
You are using very appetizing and descriptive way to characterize your product and bringing the right emotions from those who see your creations – "The brightness of the strawberries, fresh raspberries and blueberries and the pop of the cornichons gave some variety for this newly engaged couple to explore!", ""Moonchego," a cow's milk version of the crowd pleaser, manchego. This delectable, buttery delight is aged 4 months, and wheels are rubbed in an on olive oil and paprika paste."
You are engaging with your customers and creating a word-of-mouth promotion in a fun and exciting way tailored to a 1k follower milestone– offering your stunning cheese board and a beautiful state of Maine bamboo cutting board.
You are cross-promoting other local businesses and that creates goodwill for you and them! By mentioning businesses and tagging them you are allowing your audience to learn more about your picks at their own pace.
You are showing appreciation for those who choose you and your talent to upscale any event with mouthwatering boards.
You are talking about your hobbies. This helps people see you as a like-minded individual who enjoys good things and can give a recommendation. "Right now we're reading Into The Woods by Tana French. Join along with this selection and stay tuned for our next pick on Dec 1 ✨ // PS – I snuck in some Merlot BellaVitano on here with some Maine sweeties. We're happy to include friends to our party every now and then 😉"
You are filling in the need before people realize that they have one in a fun "problem-solution" way. Here is an example – "Planning on a book club with your trusted circle of GFs? We've got you covered 🍷"
or this one, which is funny and smart "Birthdays ✔️ Date Night ✔️Thinking of you ✔️Showers ✔️Housewarming ✔️Girls Night ✔️Promotion ✔️Putting on pants ✔️
So many reasons to have a Maine cheese board – and no special occasions required! //"
Your calls-to-action are very strong, they come in a very natural and friendly way which motivates people to take actions. This is how you execute: "Now that I've given you your calendar updates, you should probably order a cheeseboard from me for this weekend", "Want to try? I've got you!", "Order one for yourself or multiple for your staff or next COVID-friendly event. Ordering is live; link in bio 🥂 //"
You are not shy to ask your audience questions so that you can learn about your follower's preferences in a light and fun way. I noticed that you are creating an interactive and welcoming playful exchange of dialogs in the posts and through your Stories. Great job!
You are working in different price segments, offering not only fancy big boards but also delicious affordable smaller ones.
You are eager to share your knowledge with your audience for free. Everyone loves free stuff, everyone loves fun, entertainment and cheese. You offered the whole bundle! "Plans on Nov 16?! Let's have a date!! I am thrilled to partner with @yelpmaine to offer a FREE virtual Zoom class to show you how to create an epic, Instagram-worthy charcuterie board. Be prepared to have fun and laughs as I show you tips and tricks, and as we talk though best bites, pairings and more! Link to sign up and all the details you'll need to join is in my bio! 🥂✨ "
You are being inclusive to people with specific food preferences which is super awesome! Now vegetarians can also enjoy beautiful presentation of vegetarian cheese boards with vegan salami!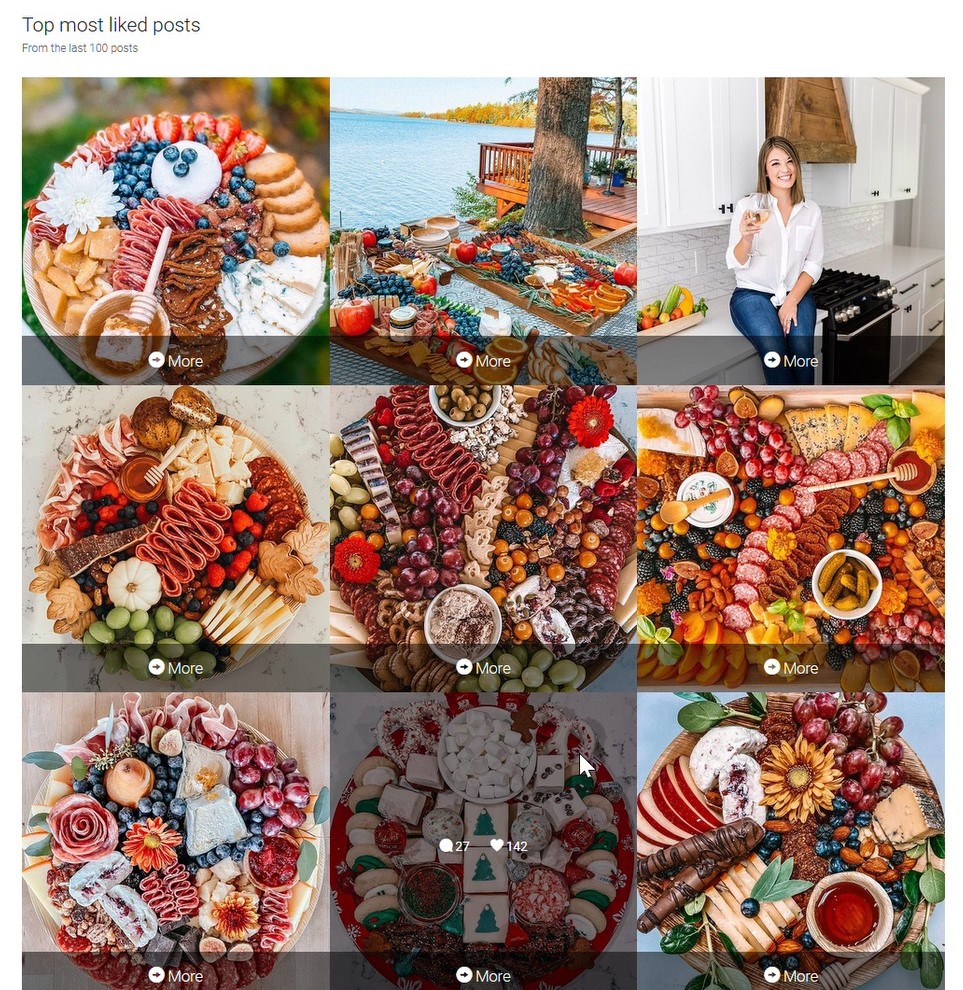 When you have a minute, check Instagram Basics file. It has a step-by-step checklist of major mistakes and growth points for any business that is on Instagram ⬇️