You have a very informative bio and it is elevated by the link to your website. Since your account name is already searchable through Instagram algorithms, I would change your search phrase from Chocolats Passion to Chocolates, Portland Maine or Chocolate gifts Maine or Chocolate Gift Boxes.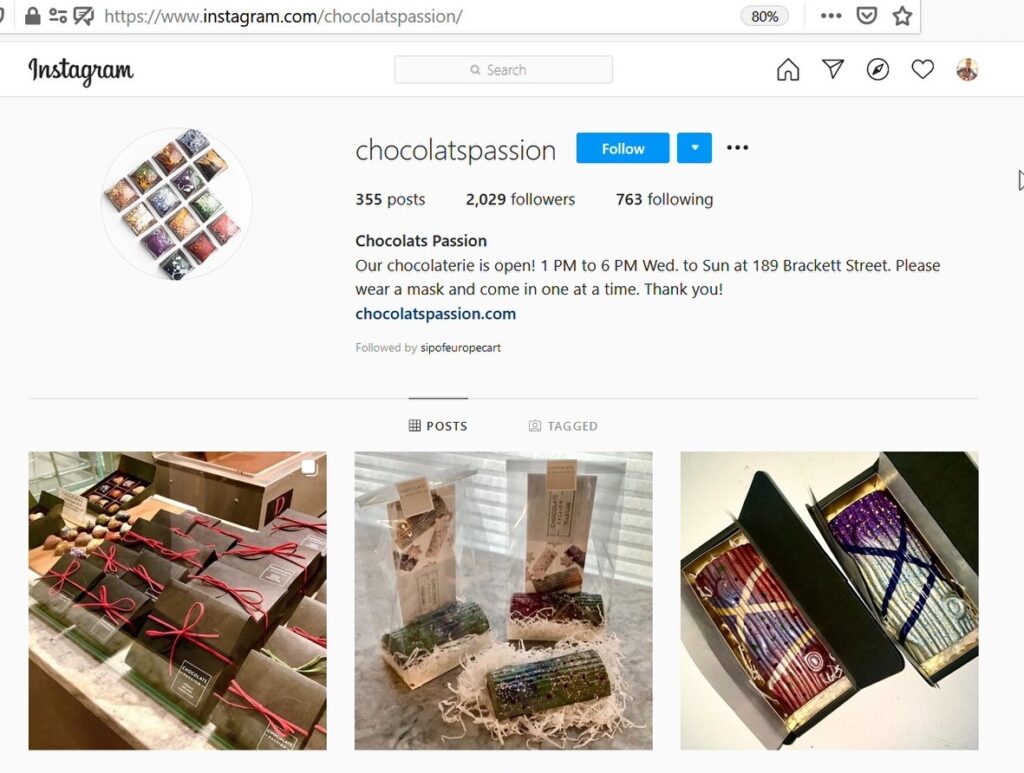 When business adds information that could potentially be searched on Instagram, it will be shown among the first chocolate makers due to Instagram algorithms. When you are searched for, you will be found, but if people are looking for an awesome local business and they see you due to Instagram algorithms, you get new followers who convert into customers or brand ambassadors.
Account has on average 0-2 Stories on a daily basis, mostly User-generated content, no highlights. Your page could be enhanced with videos of processes (tempering chocolate, pouring it into molds, adding color and appearance, taking chocolates out of molds, packing them into beautiful boxes, etc) and storytelling. I loved listening to your story on the podcast Femidish, there are so many ways you could use your current audio material and turn into structured content on one social media profile.
I would highly recommend checking my Instagram Basics file (pdf is embedded to the page) to see the benefits in advancing your online presence.
Highlights act like a table of content for your Instagram page. Here are some relevant to your profile highlights:
About/ our story – while listening to Femidish podcast I was fascinated to learn more about our roots, your vision, your mission, your passions, your entrepreneurial and educational path
BTS (behind the scenes) / Process/ How we make it – you can show your prep work for the day, transforming ingredients, creating new flavor combinations. Share videos of processes, time lapses of you and your employees getting ready for the day, tempering chocolate, creating color patterns for future confections before pouring chocolate into the molds, making, and adding fillings, taking chocolates out of the forms, sample-tasting for quality purposes, packaging it into boxes for your customers.
Fan grams / REPOSTS / Tag us/ Customers' love – pictures and videos made by your customers in which they tagged you and raved about beautiful designs of your desserts, delicious flavors.
Flavor guide / flavors – describe flavors to your customers through pictures that show ingredients and written descriptions, through videos that show processes of making delicious fillings (cutting fruit and berries, making purees, curds, jams, sauces), reveal mouth-watering inner world of your confections just like you did it here https://www.instagram.com/p/B_a1qWDAOtA/ . Talk about your most favorite goodies, characterize shop's bestsellers, educate on all your offerings as if you were consulting a person who has never tried fancy chocolates before.
Gift boxes/ our boxes – show a variety of sizes, different examples of most popular flavor sets and combinations; add some dynamic element to that – capture moments of boxes assembly, show time-lapses, slow motions
Happy hour / Specials / Deals / Flavor of the day/ week – if there are any upgrades for ordering during slow hours or any special price for preordering, let your customers know about those and keep reminding them.
Pairings – tell your customers about elevating the flavors of your confections. Which will be great with white or red wine, which will benefit from enjoying it with tea rather than coffee, etc
Questions, Q&A – answer questions from your curious customers, for example about your customization services (creating specific flavors or special color patterns), allergy information, storing conditions.
Staff fun / facts – according to your posts you have extraordinary people who work for you as a part of your team. Let them tell their story, express their ideas, share their inspirations.
You have a very visual, bright and appetizing profile, with delicious confections of incredible and unique designs.
You and your staff are the highlight of your business and by showing people behind the brand you are creating a closer connection with your future and current customers.
You have a great follower interaction – answering followers' questions, liking comments.
I noticed that you do not add hashtags regularly under your posts and when you do, some of them are very generic. Generic and frequently used hashtags may get your profile shadowbanned on Instagram. If profile gets shadowbanned, it becomes less visible to your current and potential followers.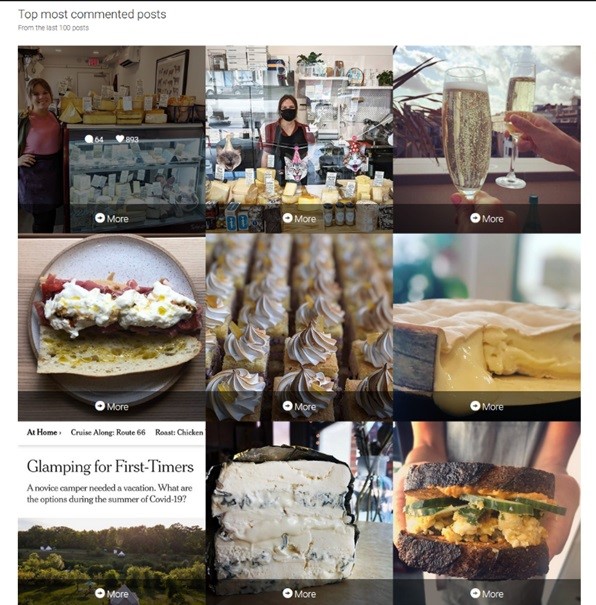 Also for any post (excluding REELs) I would not recommend using very popular hashtags (>2 million posts) too often as it will be hard to get traction with thousands of new posts daily. A good range of hashtags is 10-20.
Your account could be enhanced by more location-specific and niche-related hashtags, such as:
#exploremaine #mainebusiness #mainecoast #mymaine #hospitalitystrong #frenchpastry #giftboxes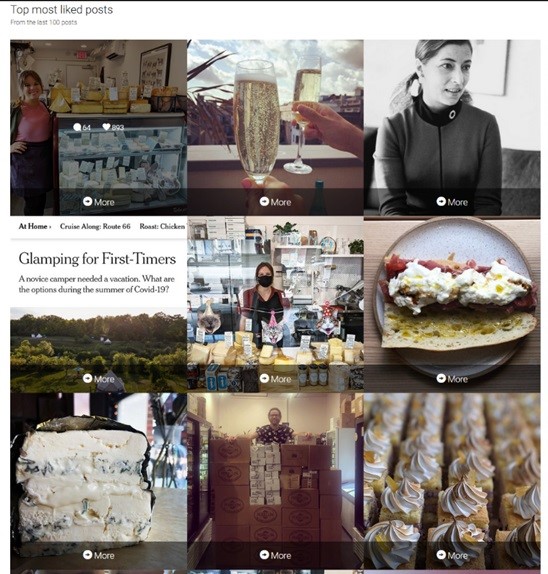 These are some factors that make your Instagram page exciting to your followers:
You are giving thanks to customers and community; with every post you show them your appreciation and that they mean a lot. You are also praising your team, your co-workers and are giving them all the love and respect they deserve. You are giving your radiant confections for free to cheer up and spread happiness during such a weird time. "Paying it forward! As we reopen next week, our little team is so thankful for the huge amount of support we got from all of you these past ten weeks. As a way to recognize our dear customers, we put together a chocolate gift for the entire COVID team at Maine Medical. So we made 100 Love Flowers for the team and 250 lollipops/ 500 dinosaurs for their kids.This was a perfect way to end this phase before we enter our new normal. Thank you! We are so lucky to be part of this community."
You are sharing milestones, personal and business points of growth, achievements of your staff and your business: "Chocolate alliance awards – The NW Chocolate Festival/ Alliance is widely considered the industry standard for artisan chocolate in America. As such, we are ecstatic to share that Sarah, @__slevine , is among the 19 worldwide finalists for their 2020 awards. She entered her Pecan pralines chipotle mendiant, and was part of the largest field of competitors ever. Woohoo!!!!" "Chocolate alliance awards – Please join our team in congratulating @__slevine for winning silver in the NW Chocolate Alliance 2020 Global awards for her Pecan Pralines with chipotle mendiant . This was Sarah's very first creation for us!"
You are showing the scale of your production that brings awareness of the amount of hard work and creativity that go into creating confections from scratch. You are describing your batches in a very impressive way both visually and verbally "We are making 250 of these cuties this week, for very special kids… more to come.", "9 lbs of bittersweet caramel with 1.5 lbs of Freddy Guys hazelnuts."
Videos of displayed chocolates are very lovely and inviting.
You are being creative with your shapes (eye-catching dragons, yummy frogs, unicorns, butterflies), flavors, color combinations and new ingredients.
You are describing available options in a way that a reader wants to try them all "A thunder of Baby Dragons coming your way. Dark or milk, filled with salted caramel ganache, our house caramel , feuilletine cookie flakes.", "The most beautiful fleur de sel, from Guérande in Brittany, gives them this incredible taste", "Ode to our Mendiants, a fancy French word for a chocolate bar with inclusions. The current crop, yummy insides adorned with organic citrus and family farms' nuts. Even a little heat, as with our New Orleans style pecan pralines and chipotle", "dark chocolate with salted caramel ganache, soft caramel, shards of feuillantine and fleur de sel"
You are an authentic and responsible food crafter, you care about environment and support sustainable food systems and you make it known. "We are proud to announce that Chocolats Passion is now a member of the Good Food Guild! The only trade association that vets ingredients and production practices to meet strict standards of environmental and socially just methods."
You are creative with your colors for different occasions and holidays. Pride month hearts looked gorgeous, your holiday themed creations are wonderful to look at and delicious to eat.
You are offering samples and letting people know about them in a visual and descriptive way – "We use the edges for samples, no waste!".
You have very affordable prices and mentioning them under your posts reminds your customers that it doesn't cost a lot to make life a little bit more sweet – "The pâte de fruits collection is complete! Apricot, guava, cassis, passion fruit, raspberry, blueberry, pear and mango. Gift bag of all 8 is $10."
You are using a lot of marketing and emotional triggers (as a few examples: time restrictions, limited qualities, fear of missing out) along with call-to-actions – getting the deal, missing out on the treats "Get your Baby Dragon today! Just a few left. We're been working so hard to meet demand, making our last batch ( most pre-ordered) this weekend." "Order online or come into 189 Brackett, we have samples!" "We are open till 6 PM, join us for samples: tasting caramels, pâte de fruits and of course chocolates!"