Your bio is short and informative, and it works well with attached link that brings curious potential customers to your website.
Your account has Stories on a daily basis but no videos or highlights. Profile could be enhanced with videos of processes: mixing ice cream base, scooping ice cream, creating custom flavors, preparing for photo sessions. I personally love your story and creativity!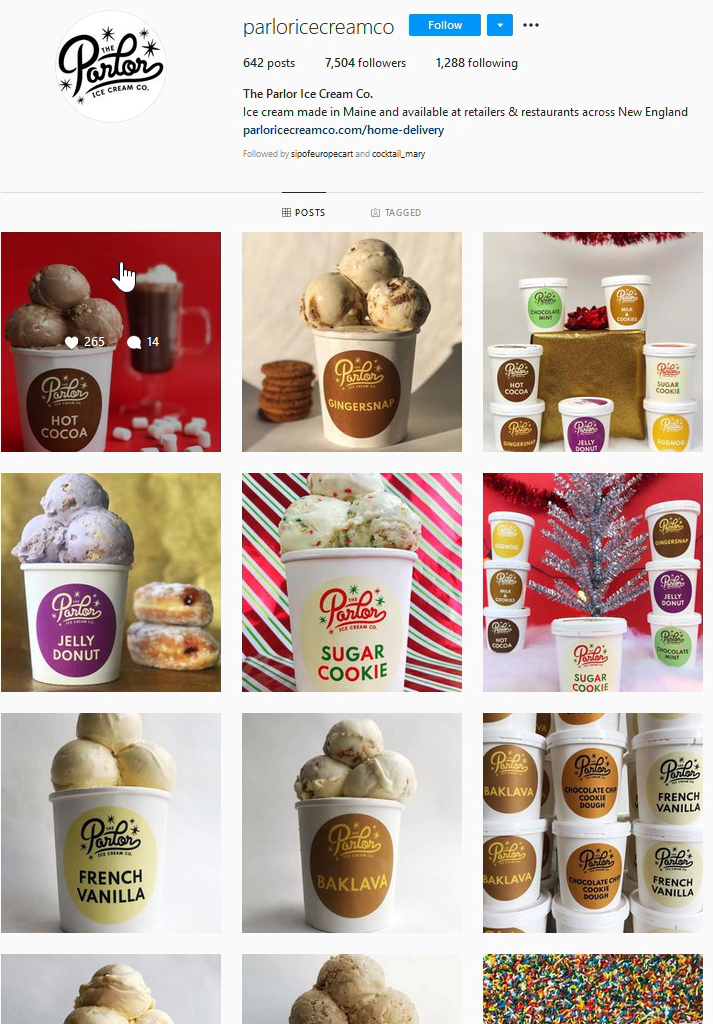 Highlights act like a table of content for your Instagram page. Possible highlights:
@ home – your examples of possible ways of enjoying your delicious ice cream, for instance, telling which brands of cookies are great for ice cream sandwiches or giving recipes to make those cookies from scratch: vegan, glute free, etc.
Bestsellers – show most popular flavors from your menu, explain the complexity of flavors (which ice cream is sweet, which is bittersweet, which is very rich, salty, etc).
Brands we worked with – your list of clients is quite impressive: Museum of Fine Arts Boston, HubSpot, MEMIC, Equinox. Share the stories behind those collaborations, talk about getting those brands on board. You can definitely be an inspiration for a smaller brand who looks up to you!
BTS (behind the scenes) –you can show your prep work for the day from choosing ingredients to pouring into the pints.
Customers' love – pictures and videos made by your customers in which they tagged you and raved about your amazing desserts.
Home delivery – explain in your Stories the whole process of getting your amazing ice cream to the doorstep
Love stories – pictures and videos from your wedding catering events
Press hits/ Press/ Mentions – honorable mentions (Like becoming Best of Maine)
Retailers / Wholesale / Store pints – short videos of walking through the stores and stopping at the freezer aisle with your ice cream will be a very cool animated touch for your customers.
Scoop science – what goes into each scoop from start to finish of your creative process.
Specials – talk about customized flavors that you have made to your customers, for different events during your catering and flavor-creating path.
You have a very visual and mouth-watering profile with bright pictures full of action, fantastic job! Also your captions are very descriptive and appetizing, creating excitement to savor complex and divine flavors of your ice cream.
You have great interactions with your followers! I love that you put hashtags in your comment section. To bring more awareness to you, your brand and offered ice cream options your account would benefit from more location- specific and product-specific hashtags.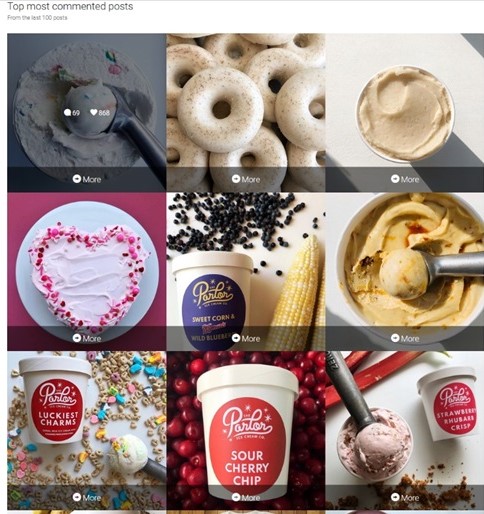 Here are my ideas on why your posts are so loved and well-commented:
You have a great style of photography; your feed is elegant and pleasant to look at.
You are showing action in your pictures – scooping ice cream, getting the best swirls from your pints, showing the ingredients in a very appealing and tasteful way.
Your labels are laconic and look as a very high class, people love your taste not only in delicious desserts but also in a visual appearance.
You are using trendy flavor combinations and creating unforgettable experiences for your customers, for instance this one – "Luckiest Charms is in shops now! Cereal milk ice cream with charmed marshmallows swirled through each pint 🌈"; you are using seasonal ingredients to bring back people's favorite combinations back.
You are being inclusive to people with allergies and alternative milk preferences which is super awesome! "We're debuting our dairy free collection of pints in shops soon! Maine grown oats make our housemade base unlike anything you've tried before.",
You are creating anticipation for your collaborations, partnerships and new flavors – "Want to get a sneak peak? Leave us a comment about what flavor you're hoping to see and we'll pick a couple winners to get first dibs 🍨", "We're going to be announcing news about home delivery + curbside pick up options later this week, so stay tuned! 💕", "Everyone's favorite flavor is returning to shelves soon… stay tuned to find out where and when to find Sweet Corn + Wild Blueberry!", "This week we're releasing our first two dairy free flavors and hope you're as excited as we are", "Italian rainbow cookie ice cream cake is heading to Pizza Bagel Night at @_rose_foods_ this Friday from 5-9…. are you?🌈"
You are engaging with your customers and creating a word-of-mouth promotion in a fun and pretty way – offering a cake giveaway: "Be sure you're following us, like this post & tag a friend you'd share with and we'll choose a winner today by 2 PM!"
You are using a lot of calls-to-action that help you grow and that raise awareness about your brand – "Each shop orders uniquely so if there's any flavors you want to see on shelves, reach out to your favorite local shop to let them know!", "If you want to see our new dairy free options on shelves near you, the best way is to ask your local grocer!✨🍯🍨"
You are bringing visual references while describing flavors of your ice cream – "We cooked down this seasons sour cherries into a tart jam, blended it through our sweet cream ice cream & folded in chunks of chocolate 🍒", "We cook down strawberries + rhubarb with vanilla beans to make a tart purée that we blend into our sweet cream base. After it's spun, we fold in freshly baked buttery oat streusel for those classic crisp vibes 🍓", "Chocolate Marshmallow cutie", "Dairy Free Salty Honey might be one of the most satisfying flavors we've ever made.", Banoffee Pie has a banana custard base, graham cracker pie crust crumbles + chunks of butter toffee 🍌
You are showing a lot of care for customers – "Not every flavor ends up at every shop, so send us a message if you're looking for anything in particular and we'll help you find the shop closest to you carrying it! 💌"
You are taking advantage of emotional triggers and words that provoke enthusiasm – "A very limited run of one of our very favorite flavors hits select store shelves this week!", "Spinning up the last round of Blueberry Flapjacks! Our Breakfast Pint Collection is only available in stores for a couple more weeks, don't hit snooze on this one"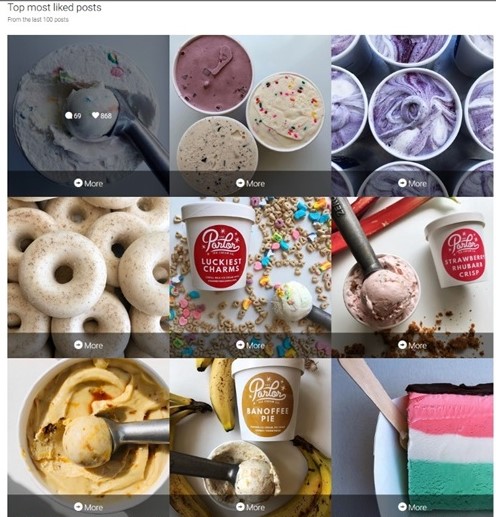 Instagram Basics file has a step-by-step checklist of major mistakes and growth points for any business that is on Instagram, check it out below ⬇️