You have a great bio, and a great search phrase.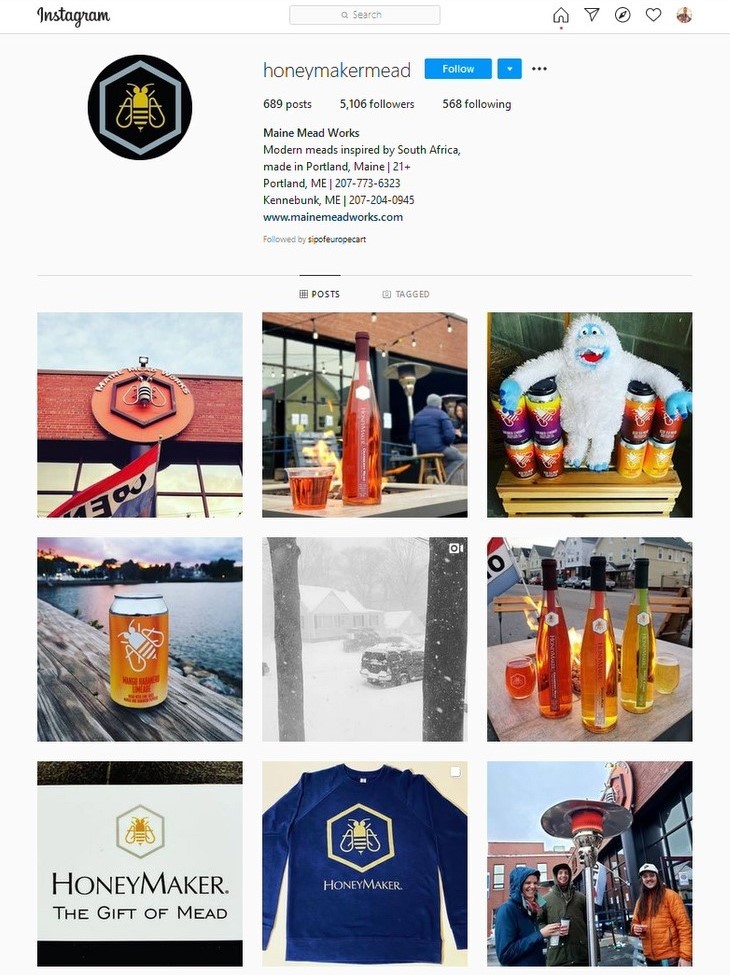 As far as I've seen, your account has on average up to 3-5 Stories on a daily basis, mostly User Generated content (when someone tags the profile in Stories). Account could be enhanced with videos of processes, storytelling about current mead selection, about history of the company which is super interesting and needs to be talked about on a regular basis. Not everyone knows about your unique equipment and collaboration with founder of Meadery in South Africa.
Highlights act like a table of content for your Instagram page. Possible highlights:
About – history, roots of your business, your vision, your mission.
Best sellers – name customers' favorite beverages from your Meadery! Give your point of view on their popularity. Show most popular flavors from your menu, explain the complexity of flavors (which drinks are sweet, which are balanced, which are sour, hoppy, etc)
BTS (behind the scenes) / Process/ How we make it – you can show your prep work for the day, sending orders that were received through Carhop, preparing shipments for the stores, creating new flavors.
Delivery – talk about ordering through Carhop, how long does it normally take from placing an order to delivery. Show the love that goes into every order =)
FAQ, Q&A – answering most popular questions about your technology, flavor profiles of your drinks.
Pairings– what savory food, desserts, snacks pair with your mead.
Press / mentioned / featured / reviews – honorable mentions / showcase reviews from your customers, captured in Stories, make print screens of nice words on Yelp, Facebook, Google. Let people know that you care about their opinion and that their reviews make your business grow and survive.
Safe & Easy – just like you've published your protocols on website, you can talk about them to your customer in your Stories.
Tag us / Fan grams / Friends / Fans- pictures and videos made by your customers in which they tagged you and raved about your food and beverages.
Variety – talk about characteristics of mead as if you were performing tasting for new-comers: describe mead's flavor profile, acidity, strength, possible pairings with snacks and desserts.
Where / Where to find – you can mention places that carry your amazing mead: shops, restaurants, markets.
Hashtags will look better if added to comment section, not to the main post – less distraction for your reader. I noticed that you have a set of hashtags that you repeat in each post:
#craftbeer #craftcider #craftmead #holidaydrinks #honey #honeywine #mainebrews #mainelife #mainemead #mead #mulledwine #newenglandbrewing #portlandmaine #savethebees #savethebees🐝
Frequently used hashtags may get your profile shadowbanned on Instagram. If profile gets shadowbanned, it becomes less visible to your current and potential followers.
For any post (excluding REELs) I would not recommend using very popular hashtags (>2 million posts) too often as it will be hard to get traction with thousands of new posts daily. A good range of hashtags is 10-20.
Try adding more location-specific and niche-related hashtags, such as:
#exploremaine #mainebusiness #mainecoast #craftmead #brunchideas #brunchparty #hospitalitystrong
I love the choice of pictures for your profile, they are bright, exciting and inviting for purchases especially with a visual presentation of the drinks in your beautiful, branded glasses. Also it is great to see hands in the picture, it gives the sense of "5 minutes before enjoying". Your drinks are amazing and all the stories and descriptions about your offered beverages are fascinating to listen to.
Profile at this point serves informative function about the hours, available flavors, and new releases. Your online presence does not sell this way, it just gives updates to people who know about you and want to be your customer.
Instagram Basics file has a step-by-step checklist of major mistakes and growth points for any business that is on Instagram, check it out below ⬇️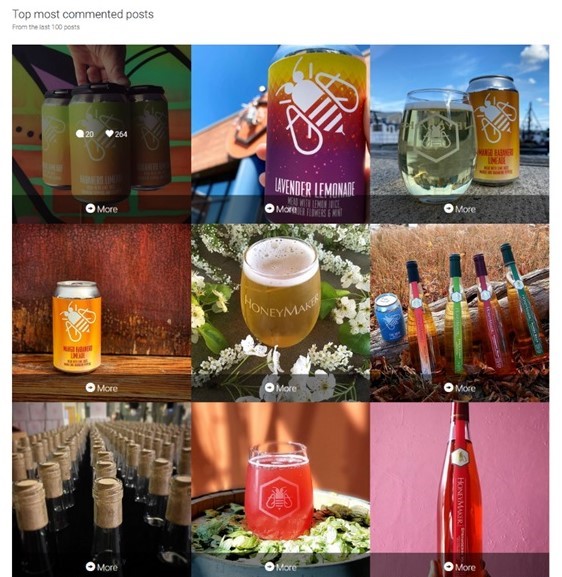 These are some factors that make your Instagram page exciting to your followers:
Making Announcements and keeping an intrigue ("Pssssst… there might be something LIMITED and EXCLUSIVE in the Portland tasting room. While supplies last 😏"
Explaining all the ways to get the product, being open to delivery services, delivering nationwide.
Using a juicy language to describe flavors – "Mango Habanero Limeade is a tropical interpretation of our much loved "Habanero Limeade". Lightly carbonated, this mead weighs in at 6.3% ABV. It starts off with a burst of mango that gradually gives way to the tartness of lime and the heat of Habanero. The perfect summer mead has arrived!", "INTRODUCING Niwatoko – a 9.3% lightly sparkling, off-dry mead featuring elderflower, chamomile, and yuzu lemon. Niwatoko is a highly floral, slightly tart and juicy springtime refresher featuring aged 2013 Aroostook county goldenrod honey.", "Each bottle is bursting with jammy goodness reminiscent of warm summer days"
You are participating in collaborations and tagging those businesses.
You are using local ingredients.
You are giving some extra information about mead-making processes ("We start with over 400 lbs of local, ripe strawberries and ferment them with our wild South African yeast to make a slightly tart, off dry, fruit forward summer mead absolutely filled to the brim with the flavors and smells of local strawberries.")
You are adding call-to-action to the captions, such as "Order yours today via…"
Talking about great neighbors
Saying about struggles in business and fast help from Portland Fire department.