You have a great bio, I love how descriptive it is while being laconic:
Maine's Gourmet Whoopie Pie
✨ Creative flavors
🍽 Freshest & finest ingredients
🎁 Shipping nationwide by the dozen
📍Made in Maine capewhoopies.com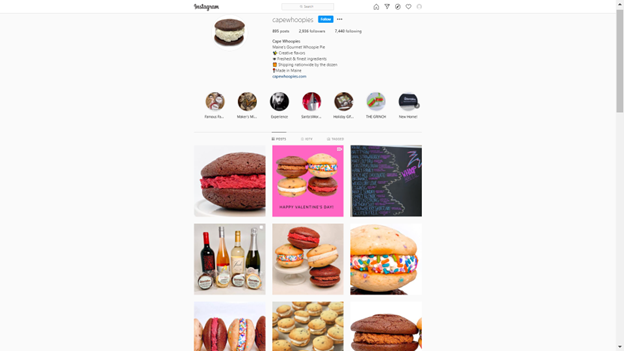 Your current Search phrase (first line under account name) is "Cape Whoopies" that replicates your account name and does not increase your searchability. I would change it to a phrase that can help you rank higher in a search due to Instagram algorithms: "Whoopie Pies | Maine bakery" or "Gourmet Whoopie Pie | Maine" (written without quotation marks, of course). When you think about changing the phrase, please, remember that you have only 30 symbols including the spacing.
When you are searched for by a specific name of your business, you will be found. However, if people are looking for an awesome local business and they see you due to Instagram algorithms, you get new followers who convert into customers or brand ambassadors in an effortless organic way.
Account from time to time has Stories during workdays, showing some of behind scene magic and User-generated content. Your existing Highlights are already great, they introduce potential customers to the flavors. If you add some more Stories that can educate, entertain your potential customers, and make them informed about your business and your offerings, your page will be golden!
Here are some ideas for additional Highlights:
You can Upgrade your "Experience" Highlight (it is 110 weeks old and you have so many fresh reviews to substitute it with!) to Tags / Reposts / Customers' love / Your ❤️ – pictures and videos made by your customers in which they tagged you and raved about beautiful designs and packaging of your desserts, delicious flavors.
BTS (behind the scenes) / Process/ How we make it – you can show your prep work for the day, transforming ingredients, creating new flavor combinations. Share videos of processes, time lapses of you and your employees getting ready for the day, baking whoopie pies, making and adding fillings, sample-tasting for quality purposes, packaging it into boxes for your customers.
Gift boxes/ our boxes – show a variety of sizes, different examples of most popular flavor sets and combinations; add some dynamic element to that – capture moments of boxes assembly, show time-lapses, slow motions.
FAQ, Q&A – answering most popular questions about whoopie pies (e.g. are you working on vegan alternatives? Is there a trusted vegan whoopie recipe you can share?), about your business, hours of operations, about your technology, scale, flavor profiles of your desserts, pairings with drinks, allergy information.
Flavor of the day/ week – tell stories about specific whoppie pie, give an incentive to buy it – special discount, BOGO offer, free tasting set, etc.
Ingredients – your profile and website say that you take a great pride in sourcing the best ingredients. Talk about them, show them in use.
Here is an excerpt from your website: "Our focus has always been to make the best tasting, most wholesome whoopie pie, and to achieve that end we had to find superior products. We found Bensdorp chocolate from Holland and knew this was the place to start. This cocoa lends a hand in the luscious chocolate cakes that grace many of our flavors. We also needed the best vanilla we could find. Madagascar bourbon vanilla paste was perfect to pair with the chocolate. The vanilla paste is as thick and sweet as honey and chock full of vanilla beans. You can see them swirling around in both the vanilla cakes and the vanilla cream. These two are the jumping off spot for all our flavors. In the fall, we also know you will love the exquisite ginger cakes with lush bourbon filling. It's spicy and rich with cinnamon, nutmeg, ginger and cloves. It holds the place for the bourbon cream which is such a delight! All our spices and flavorings are natural and wholesome."
Occasions – make a few collages or schedule a photo session with your product at different locations and with different backgrounds: party (add some b-day balloons, etc), flowers (celebrating love, birthdays of dear people), home setting (some appetizers on your table, cheese board, cups of tea, hands that are sharing meals and your whoopie pies, some cute animals looking directly at you when you are holding a dessert, etc)
Ordering – explaining the safety protocols that you have in place: pick-up options, delivery, etc.
Our team / Staff fun / facts – according to your posts and interviews you have extraordinary people who work for you as a part of your team. Let them tell their story, express their ideas, share their inspirations.
Quizzes – how many whoopies do we make a day? How long does it take to assemble whoopie pies (layer it with cream), etc
Reviews – I see you have a "testimonial" section on the website but the reviews are from 2017, I am positive with your hundreds of shipments and pick-up orders you have more feedback from your customers! Your Google, Yelp & TripAdvisor page has a great and relatively recent feedback (2018-2020), so does the Goldbelly listing =)
You have a great range of hashtags! Currently they are placed in the captions area of your posts; they will look better if added to comment section, not to the main post – less distraction for your reader.
Instagram Basics file has a step-by-step checklist of major mistakes and growth points for any business that is on Instagram, check it out below ⬇️
Below are some factors of your best-performing posts that made your Instagram page exciting to your followers: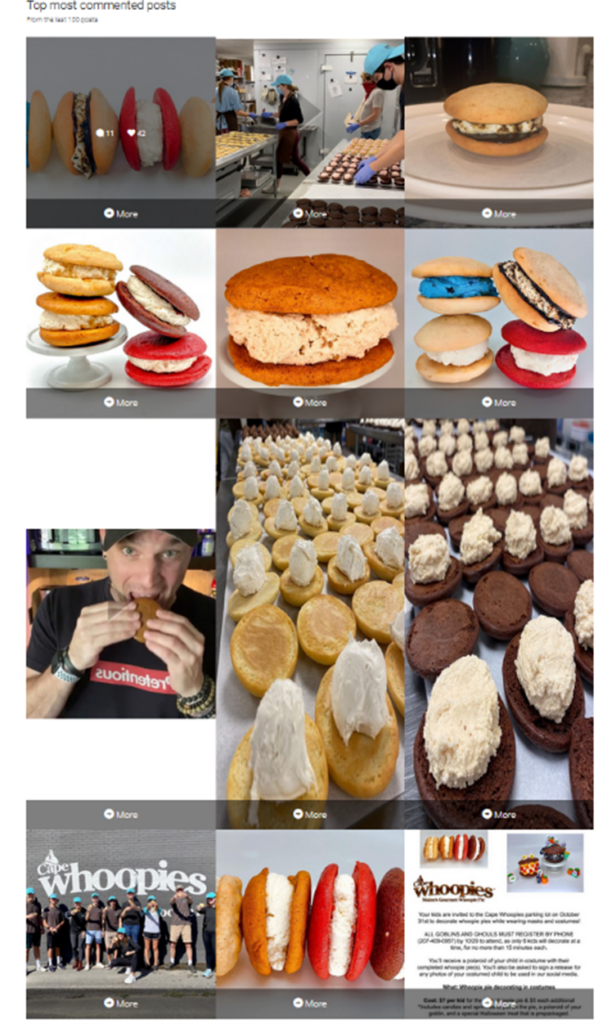 You are liking comments & answering questions and responding to compliments in a fast and friendly manner (for instance, calling people "Whoopie aficionados").
You are showing a big scope of your business that brings awareness of the amount of hard work and creativity that go into creating confections from scratch: displaying tables full of desserts, a lot of busy employees at different stages of dessert making from scooping batter to piping fillings over tops of cookies and sandwiching them together, boxes which are ready to be shipped. People get the idea that your business is successful, loved and in demand and they want to experience your desserts for themselves. With your pictures and videos you are giving an insight to the amount of love, care and time that go into each order.
You are showcasing people behind the brand, "the coolest crew in greater Portland"
You are being playful with your audience, asking your followers questions about their flavor preference, about their opinion on particular desserts.
You are being creative with ingredients, seasonal combinations and colors and are eager to demonstrate what you have. In addition to that you are using a juicy language to describe flavors "CAMP FIRE is 1 of our new summer flavors – a s'mores inspired whoopie pie with graham cakes, chocolate fudge, & toasted marshmallow cream!"
"Who's ready for Fall?! 🙋🏼‍♀️ Celebrate the season with our FALL FAVORITE Whoopie Pie Assortment, shipping nationwide from capewhoopies.com and featuring the following irresistible flavor combinations:
✅ Drunkin Punkin – pumpkin cakes with amaretto cream
✅ Granny's Gone Wild – Granny Smith Apple cakes with caramel cream
✅ Maineiac – chocolate cakes with vanilla cream
✅ Wicked Loby Love – red velvet cakes with vanilla cream"
"Have you tried our Drunkin Punkin Whoopie Pies yet? 🎃 These delicious seasonal favorites feature pumpkin cakes with amaretto cream! 😋 This flavor combo is shockingly delicious!!! If you love pumpkin, these babies will be your new Fall Favorite."
Live on the site – our 2020 Summer Assortment, featuring a brand new s'mores inspired whoopie pie! This irresistible Maine whoopie pie assortment in red, white, and blue features the following flavors:.
🇺🇸Camp Fire: graham cakes with chocolate fudge and toasted marshmallow cream
🇺🇸Wild Blue: vanilla cakes with blueberry & lemon zest cream
🇺🇸Smart Blonde: vanilla cakes with vanilla cream
🇺🇸Wicked Loby Love: red velvet cakes with vanilla cream.
Get it now (and only for the summer) @ capewhoopies.com!
With an awesome video of Unboxing Whoopie Pies with Aaron Perry you are creating enthusiasm and anticipation to try your flavors. Showing someone's true emotions about product is the best way to create trust in a product! Your wording in captions is funny and exciting "Spoiler alert: he eats the whole thing."
You are reminding your followers about pick-up and delivery options in your feed. "Our delicious Maine whoopie pies ship nationwide by the dozen and half dozen from capewhoopies.com! 😋", "Get them now by the dozen or in our Fall Favorite Assortment from capewhoopies.com!", "Ship a dozen of these classic Maine whoopie pies with a gourmet twist from capewhoopies.com!".
You are cross-promoting other businesses and that creates goodwill for you and them! By mentioning your suppliers, partners, distributors and tagging them in your posts you are allowing your audience to check those businesses for themselves.
In a customer-friendly way you are showing a great Care about your customers in terms of creating safety protocols, taking all precautions against the spreading of COVID-19 (wearing masks, gloves, etc).
You are being inclusive to gluten-free customers reminding them that you have gluten-free options.